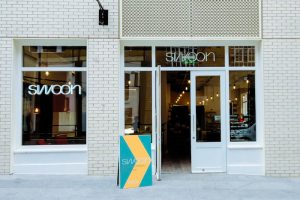 The Mercers' Company has announced that designer interior brand Swoon has launched a 3,800 sq ft pop-up showroom at 7 Mercer Walk to coincide with their brand refresh and will open until April 29.
Swoon adds to the eclectic mix of stores available to customers within Mercer Walk and St Martin's Courtyard. The showroom opening follows the brand's first ever TV advert and showcases their distinctive brand refresh, which launched online in late March, whilst their TV debut was first aired on April 4th. The Mercer Walk pop-up, designed by Studio Stilton in collaboration with Swoon, will offer visitors over 200 products as well as an in-house workshops and experiences.
Tom Chalet, head of spaces at Swoon commented: ''Covent Garden is the perfect location for our largest Central London pop-up to date. The venue in Mercer Walk, secured with the help of Storefront Marketplace, is an ideal space to showcase our latest designs alongside our newly launched brand identity.''
Simon Taylor, property director at The Mercers' Company added: "The Swoon pop-up store opening reflects the popularity of Mercer Walk for brands to launch to a wide audience within Central London. Swoon joins a great line up of complementary fashion and lifestyle brands including Smashbox and H&M."
The news follows the recent refurbishment of Bill's restaurant within St Martin's Courtyard, one of only three locations the brand chose to launch their new concept design and bespoke menu in the UK. Alongside this, clothing brand, Rohan has opened their flagship store within St Martin's Courtyard.
Knight Frank acted for The Mercers' Company and Storefront advised Swoon.