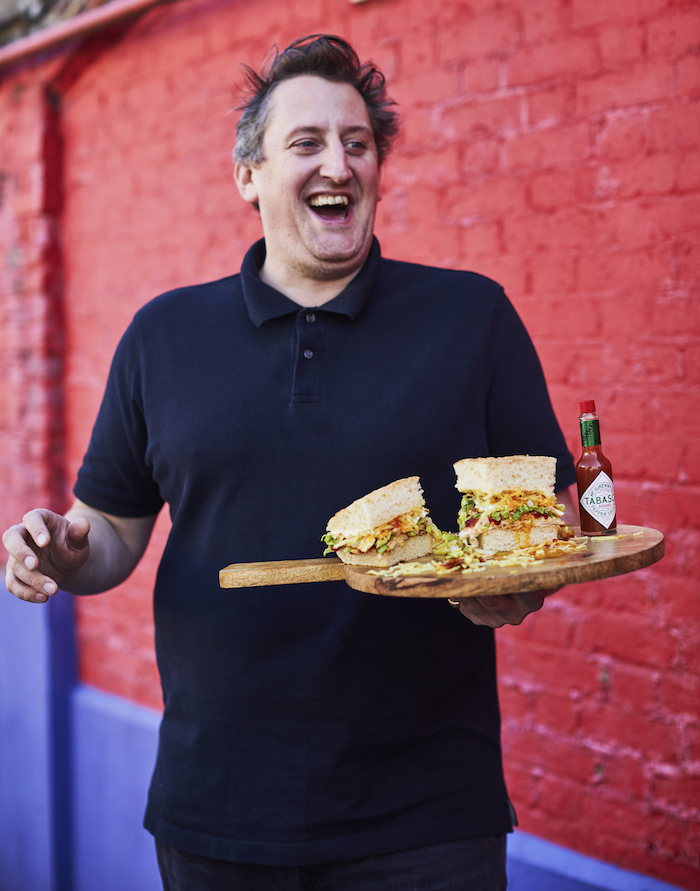 New research reveals that almost 14 million Brits will be craving a humble breakfast sandwich the morning after a big night out this season. In response, the UK's best-selling hot sauce brand has partnered with the man who knows how to make magic between two pieces of bread to create Max's Morning Reviver x Tabasco Sauce.
A festive interpretation of his shop's best-seller the Ham, Egg & Chips, the hot sarnie packs a festive punch with smoked turkey legs, a fried egg, turkey gravy mayo, Bloody Mary ketchup with Tabasco Sauce, shoe-string fries and Baby Gem lettuce in home-made focaccia bread.
The sandwich is on sale at Max's Sandwich Shop in Stroud Green. Tabasco Sauce and Max will then take the special sandwich on a UK tour in December, serving it up to morning commuters in London, Leeds and Birmingham in the Tabasco Pick-Me-Up Café, complete with bottomless Virgin Marys.
Max Halley, author of Max's Sandwich Book, comments: "I cannot tell you how much I love Tabasco Sauce. Ever since I was little, I've been popping it in my sarnies left, right and centre. I even kept a bottle in the glove compartment of my car, to liven up even the dullest of roadside snacks. It's a dream come true to work with Tabasco Sauce and together we've come up with Max's Morning Reviver, which trust me, will sort you right out the morning after the night before!"
Tabasco Sauce has been a friend of food lovers for 150 years and has always been an iconic ingredient of the restorative cocktail, the Bloody Mary. This collaboration hopes to perk up morning after dishes and show how to turn leftovers into a main event.
Those who can't make it down to Max's Sandwich Shop or the tour, can check out tips and recipes using Tabasco pepper sauces to perk up mornings and make sandwiches taste even better.