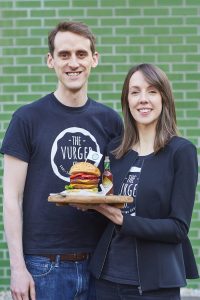 The Vurger Co. and Tabasco will be serving up a vegetarian friendly burger at a one day event to celebrate National Vegetarian Week. On Friday 19th May, Londoners can stop by Bishops Square, Spitalfields Market and sink their teeth into a new culinary creation with the debut of "The Auburger".
Aubergine sales soared by 18% in UK retailers last year alone. The versatile fruit appears in cuisines around the world; from aubergine parmigiana to babaganoush and from ratatouille to baingan ka bharta.
Auburger seekers can expect smoky BBQ flavours and meaty textures from a not-so-top-secret-recipe of aubergine, onion and chickpea mixed with Tabasco Chipotle Sauce and topped with smoked cheese all served in a brioche bun. It's #aubergenius.
Masterminded by The Vurger Co. founders Rachel Hugh and Neil Potts, the duo will be on hand serving up single or double stacked Auburgers for £7 and £9 respectively and explaining how they're taking the veggie burger out of the specialty aisle and into mainstream cooking.
"The meat-like texture of the aubergine works really well as a burger.  Using a mix of flavours and textures we've been able to recreate the traditional feel and taste of a burger yet sticking to our own vegetable centric roots," said The Vurger Co. co-founder Rachel Hugh. "We infused it with the rich smoky flavours of the grill with Tabasco Chipotle Sauce at each stage of preparation. It's the perfect combo for summer."
The Auburger will be on sale in Bishops Square, Spitalfields from 12-3pm on Friday 19th May while stocks last.  For those unable to make it to the pop-up event and are keen to sample the Auburger, Tabasco has created a simple recipe that anyone can follow at home.
–