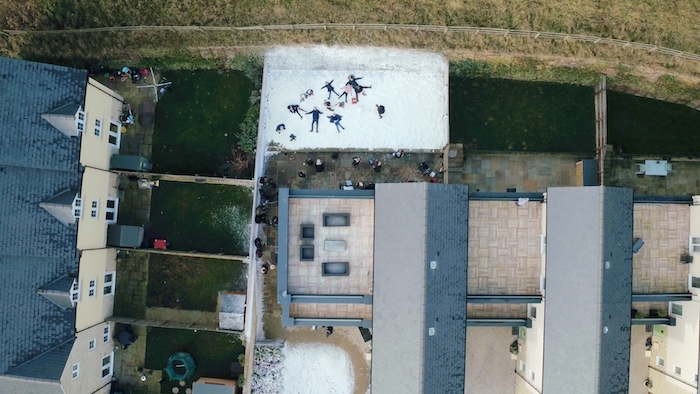 The Markham family received the gift of real snow at their home courtesy of TK Maxx, and now the family stars in the labels-for-less retailer's latest behind-the-scenes TV spot.
Broadcasting from 13 December, the documentary-style film depicts the Markham family, along with their friends and neighbours, revelling in the unique White Christmas experience, making snow angels and having snowball fights, thanks to TK Maxx.
Amanda Markham and husband David received an extra-special visit from a team of TK Maxx Snow Experts, who delivered eight cubic metres of real snow using film industry standard equipment, transforming their garden into a winter wonderland perfect for snowball fights, snowman building and a full Christmas experience. The pair hid the surprise from their two daughters, nine-year-old Bella – whose birthday is on Christmas Day – and six-year-old Lena who had never seen snow before. When their White Christmas was revealed, both girls headed to their back garden to get stuck in with all their friends and neighbours.
Amanda Markham received a White Christmas as part of the TK Maxx "Treasure" Loyalty scheme prize draw. The draw was one example that brought to life the opportunity to receive a White Christmas as depicted in TK Maxx's Christmas TV advert.
Amanda Markham said: "We've definitely started off the Christmas period in the most magical way possible! For our girls, seeing snow around Christmas time is rare, especially for Lena as she was born overseas. So seeing the smiles on their faces when we revealed the winter wonderland that had been created, and to watch them play in the snow for hours with their friends and our neighbours, was so special!"
Deborah Dolce, group brand & marketing director, at TK Maxx said: "This Christmas our aim has been to create a real, magical experience for our shoppers. We know that lots of people dream of a White Christmas and it's a special and very fun way to bring family together and we're delighted to make this a possibility."
The film airs for the first time on 13 December, voiced by the inimitable Bill Nighy.