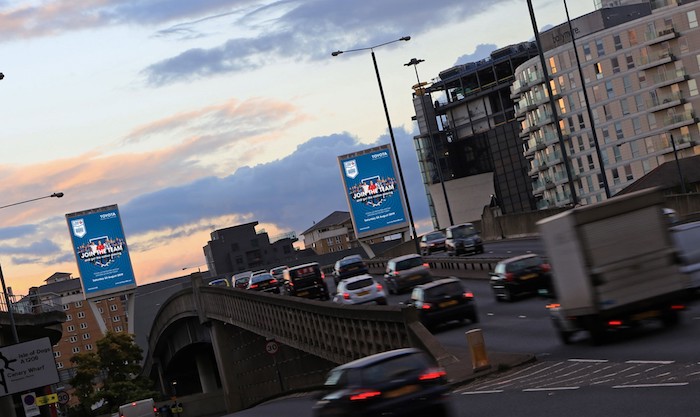 Official Team GB partners Toyota GB and Ocean Outdoor are launching an exclusive out-of-home activation to get the nation moving ahead of the 2020 Tokyo Olympics.
The I Am Team GB participation campaign will culminate with The Nation's Biggest Sports Day on Saturday, August 24, with hundreds of events taking place right across the UK.
Leading the I Am Team GB programme is a day of free, action packed fitness and fun activities at Westfield Square, Westfield London, led by the four-time Olympic gold medallist Laura Kenny.
Team GB athletes and local community heroes, supported by a roster of volunteer Games Makers, will host activities on a purpose built stage and grassed arena at the Westfield London, designed for people of all ages and abilities.
A second zone will accommodate skills classes just for children, with additional seating for spectators and food trucks.
The aim is to break down barriers to health and fitness and encourage more active lifestyles, working with local sports and grassroots community groups to signpost people back to those organisations after the event.
As part of the experiential activity, Toyota GB will also install an interactive wall where people can show their support for Team GB by taking a selfie which they can print out. The photos will form part of a giant mosaic featuring Laura Kenny, Britain's most successful female Olympian.
Tom Whiteside, Toyota GB sponsorship manager, said: "As an Official partner of Team GB, it has been hugely beneficial to be able to work with another member of the Team GB partner stable in Ocean Outdoor, which has enabled us to grow awareness of the 'I Am Team GB' participation campaign significantly by utilising their digital OOH network."
Kevin Henry, Ocean head of content and sponsorship, said: "This is the first in a series of activations we have planned in collaboration with Team GB, Toyota and other partners in the run up to Tokyo 2020. Toyota is all about driving sustained growth in physical activity inspired by Team GB – and Ocean's full motion screens and experiential spaces are central to the delivery of that message."
Paul Buttigieg, director of partnerships Europe at Unibail-Rodamco-Westfield said: "At Unibail-Rodamco-Westfield we are passionate about connecting the best brands with our customers to create unique experiences and give communities a reason to come together. We are delighted that Team GB will be hosting their Nation's Biggest Sports Day in partnership with Toyota GB and Ocean, at our major external event space, Westfield Square at Westfield London."
The Westfield London event is created by Toyota GB and Team GB in association with Limelight Sports.
The campaign is supported by I Am Team GB content across more than 30 Ocean screens in six other UK cities, breaking on August 22. The activity was planned and delivered by M/Six, Mediacom and Limelight Sports.
Team GB has an exclusive out-of-home content partnership with Ocean, offering sponsors and brands an enhanced, high impact and content rich advertising environment to celebrate milestone moments in the run-up to and during the Summer Olympics in 2020.
As Team GB's official media partner, Ocean will be a key content channel during Tokyo 2020, showcasing incredible medal moments and bringing fans on the streets of Britain closer to the action.