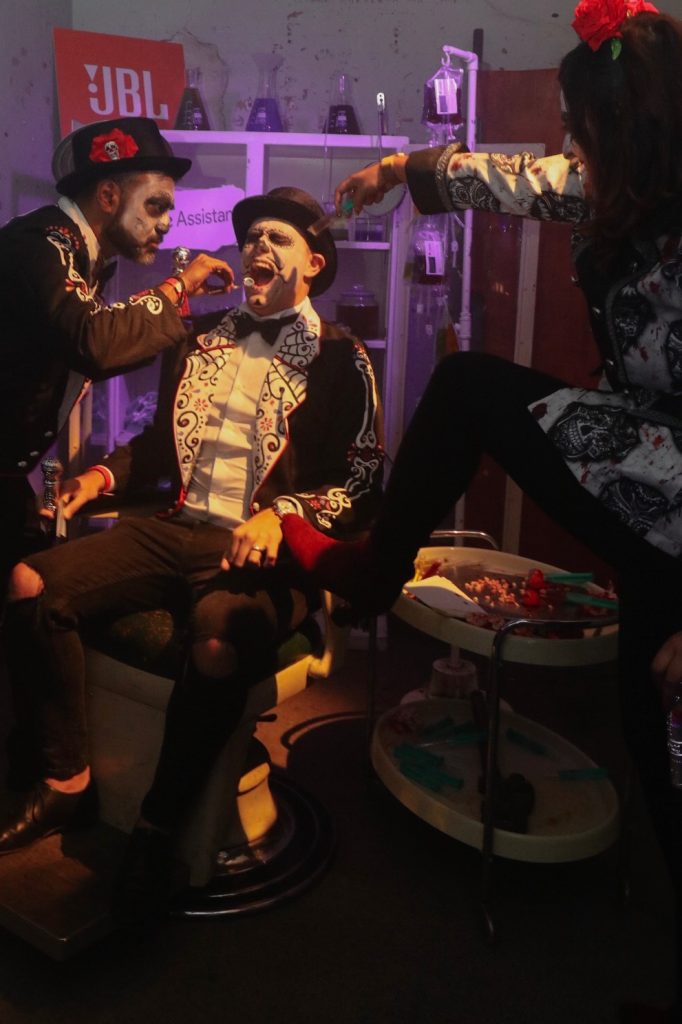 JBL  have turned to content experimenter UNIT9 to help create a Halloween-themed brand experience.
Taking place at Shoreditch Town Hall's 'The Ditch' basement on Wednesday 31 October, the 'Fright Club' experience invited 240 guests and influencers to an underground labyrinth of macabre and delight to showcases JBL's voice-activated Link range featuring the Google Assistant and the powerful new PartyBox wireless speakers with a built-in lightshow.
Briefed to create an unforgettably chilling yet socially shareable event that subtly incorporates key product features, UNIT9 conceived a twisted interactive horror experience where participants were encouraged to use voice recognition to interact with JBL products.
After being met by a wall that transmutes into different bodily shapes thanks to stretched metallic plastic with actors behind – participants were greeted by an ominous hooded figure who tells them their safe word is: "Hey Google, lights on". They then proceed into darkness, immersed in a soundscape – played on JBL products – of distressed animals, human screams and metal clunks. When they can bear it no longer, they shout the safe word to trigger a strobe light that reveals two terrifying twins snarling at them.
Additional spaces included a bespoke projection mapped hypnotic portal that used the Town Hall's Victorian tunnels, textured lighting, silhouette acting and live-action capture of creepy crawlies to create a suitably spooky immersive landscape, A freezer room full of frozen bodies where the Link View and the Google Assistant showed the room's temperature; and the cell where ghostly prisoners past have left hundreds of psychotic 'Hey Google' requests scrawled across walls.
Guests eventually found themselves in a gory party interspersed with performance artists like fortune-tellers, dominatrix, ghouls and contortionists.
JBL's head of marketing Simona Bara said: "Halloween inspires creativity and is an opportunity for everyone to go out and enjoy themselves, making it a perfect fit for our JBL brand. We wanted to create a fun experience for guests to see our products in a different context, and we knew that UNIT9 – thanks to their previous work on escape rooms and movie premieres – were the go-to for delivering a spine-tingling and mind-bending brand experience that stands head and shoulders above all others."
UNIT9 director, Sean Pruen, added: "What was great about JBL Fright Club was that the product was heavily featured throughout but never felt forced. We integrated the actual product and its functionality into the heart of the experience's many narratives in a way that just made sense. This, alongside exotic performances, immersive theatre, weird food, curious drinks, projected visuals, twisted set design and live music made it a truly terrifying yet hilarious party."
The activation was delivered by UNIT9 and Ranieri Communications)