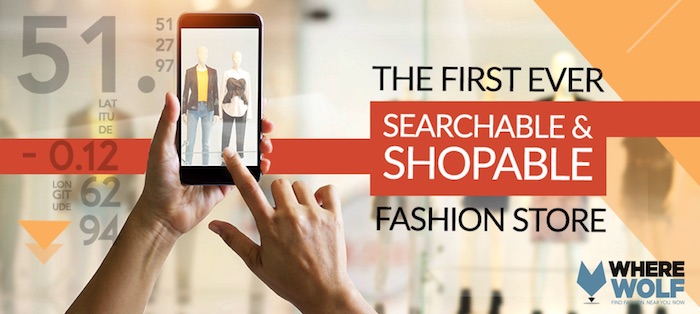 St Martin's Courtyard has announced that the first ever searchable and shoppable fashion store, WhereWolf, will debut its first pop-up shop in the UK at St Martin's Courtyard, Covent Garden this summer.
Located at number 6 Slingsby Place, WhereWolf is set to open its 1,700 sq. ft store for visitors from 3-15 August. Originally inspired by the 'digital shopper' WhereWolf aims to demonstrate the future of retail through a combination of its digital shopping app and first ever pop-up store, with the objective of creating a more reliable high street experience.
WhereWolf is the first digital shopping app for high streets, designed to make in-store inventories searchable for shoppers to check size and store availability in real time. The app can detect the location of consumers and allow them to search for products in high street stores. This concept is first of its kind, and as well as driving footfall to store, it provides an alternative to e-commerce services such as click and collect, as it works in real-time and can be collected immediately, rather than the industry practice of up to 48 hours. The WhereWolf app also has a price drop feature, which enables customers to be notified if the price of their selected product drops in store so they can come into the shop and buy it.
Spanning two floors, the space will feature a range of products from several leading British and European independent designers such as Emin & Paul, Rachel Entwistle, Blake Mill, Eudia and many more. Collections will be a combination of products currently available as well as a preview of their upcoming collections, all digitally updated every hour.
In addition, the pop-up store will provide a programme of fashion masterclasses and workshops, offering exclusive and intimate sessions that introduce shoppers to the brand owners and allow them to interact with the product.
Dhruv Bonnerjee, founder & CEO at WhereWolf, added: "We are very excited to launch our first UK pop-up in St Martin's Courtyard, one of London's most bustling and fashionable neighbourhoods. The constant high footfall at this central London location makes it the ideal destination for us to share our vision for the future of retail. We are looking forward to sharing our vision of how the high street needs to be digitally transformed in order to offer something unique for consumers in the future.
Charles Owen, portfolio executive at Shaftesbury, added on behalf of Longmartin Properties: "WhereWolf choosing St Martin's Courtyard for their first UK pop-up shows not only the quality and popularity of the destination but also our ability to provide a platform on which to showcase innovative retail concepts for brands that are at the forefront of the industry. By marrying the traditional bricks and mortar store with a digital shopping assistant, WhereWolf will add something totally new and inspiring to our strong line-up."
This follows Choose Love x Pride in London, a recent pop-up for London Pride, which was open for a week prior to the city-wide celebrations. The successful pop-up was founded by charity, Help Refugees, and sold a 'Choose Love' T-shirt designed by iconic fashion designer, Katharine Hamnett, with the proceeds going to LGBTQ+ refugees and asylum seekers.
Appear Here acted as letting agents on behalf of Longmartin Properties. CBRE is appointed as the asset manager on behalf of Longmartin Properties.