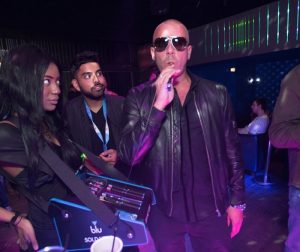 whynot! thinkpeople have put vapers first by partnering blu and Ministry of Sound to revolutionise the choice between smoking and vaping in the flagship London club.
From now through to April 2018, whynot! thinkpeople have secured blu the exclusive rights to sell and sample vaping products within the dance venue. Clubbers will have the option to purchase the most popular blu device, the blu PRO, and choose from the full flavor, and accessories range. Blu products can be purchased from both indoor and outdoor bars, and from the Ministry of Sound official merchandise shop.
The partnership will expose the 1,500 dance music enthusiasts each club night to blu's vibrant branding within the club's courtyard and other high footfall areas. The large outside terrace has been turned blu with bold branding, light projections and a blu light installation. Inside the club, every club-goer will see blu's footprint, and a monthly brand ambassador initiative will give smokers and vapers the chance to try blu, and find out more about vaping.
Ministry of Sound director of brand & events, Andrew Akuffo, stated that, "As London's number one destination for dance music fans, we're always striving to give our audience experiences beyond just the music, so partnering with one of the leading vaping brands to continue to evolve our offering, is an exciting step for us."
Jennifer Roberts, VP of customer marketing at Blu UK, added: "whynot! have been instrumental in developing strong partnerships and an experiential campaign for blu that creates positive brand experiences and great conversations with our target consumers.  We are looking forward to a summer of exciting activations and partnerships that the team at whynot! are developing on our behalf"
The partnership was negotiated, and is being managed, by whynot! thinkpeople, the UK consumer activation agency for blu, who were appointed in October 2016.  Together with Clements Retail, whynot! turned the Ministry of Sound blue for the launch of the partnership.  The partnership kicks of a summer of consumer activation linked to key music events and outlets.
You can find whynot! think people in our Online Directory