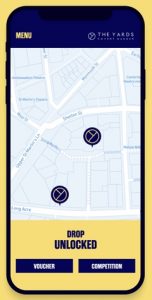 Longmartin Properties Ltd, a joint venture between Shaftesbury and the Mercers' Company, has launched its festive activation, 12 Drops of Christmas at The Yards, Covent Garden, using pioneering geo-located technology. Cementing Longmartin Properties as a landlord with a difference, this latest activation accentuates their continual investment into The Yards and innovative approach, as well as their active management style with continual tenant engagement and support.
Aiming to drive footfall, arouse consumer interest and support occupiers' sales, The Yards' 12 Drops of Christmas will allow visitors the opportunity to unlock exclusive destination offers, via scanning a QR code found within The Yards – a first in UK retail to use this geo-technology without having to download an app. Once accessed, visitors will be directed to a dynamic map of the destination, providing them with the opportunity to redeem exclusive offers from a range of occupiers.
Working collaboratively with Landmrk, the location-based experiences platform that is used for engaging augmented reality and immersive marketing campaigns, the mobile-web-powered technology will only recognise visitors who are geographically located within a specific proximity of the destination, ensuring targeted consumer engagement.
The Yards has worked collaboratively with occupiers across the destination to create a unique offering with exclusive prizes that can only be found at The Yards. Attracting both the curious consumer and savvy shopper, offers include £500 off at Clarendon Fine Art, a £150 Hawksmoor Gift Card and a complementary Christmas Party at The Conduit, alongside further prizes from Dishoom, London Graphic Centre and more. Running from the 1st-12th December, one winner will receive the headline prize of the day, with smaller rewards available for all throughout the campaign.
On behalf of The Yards, Lynne Henderson, Marketing & Community Manager, commented on the launch: "In the current retail climate, and with so many shoppers choosing to shop online, it is important for landlords and asset managers to deliver a real point of difference when it comes to customer experience. The 12 Drops of Christmas campaign and debut use of this technology signifies our ongoing investment, innovation, and our future proof approach to ensure The Yards is set apart from its surrounding central London locations."
Tom Nield, Co-Founder of Landmrk added: "It is very exciting to be able to deliver a retail first for our pioneering technology and to work alongside The Yards and its innovative landlords, Longmartin Properties. The 12 Drops of Christmas experience at The Yards is an exceptional example of what can be achieved when you marry technology and consumer experience."
The news follows Longmartin Properties' recent £4.5 million investment in a circa 20,000 sq. ft of high-spec office space within the heart of The Yards, Covent Garden, across two locations, 14 Upper St Martin's Lane and 10 Slingsby Place.