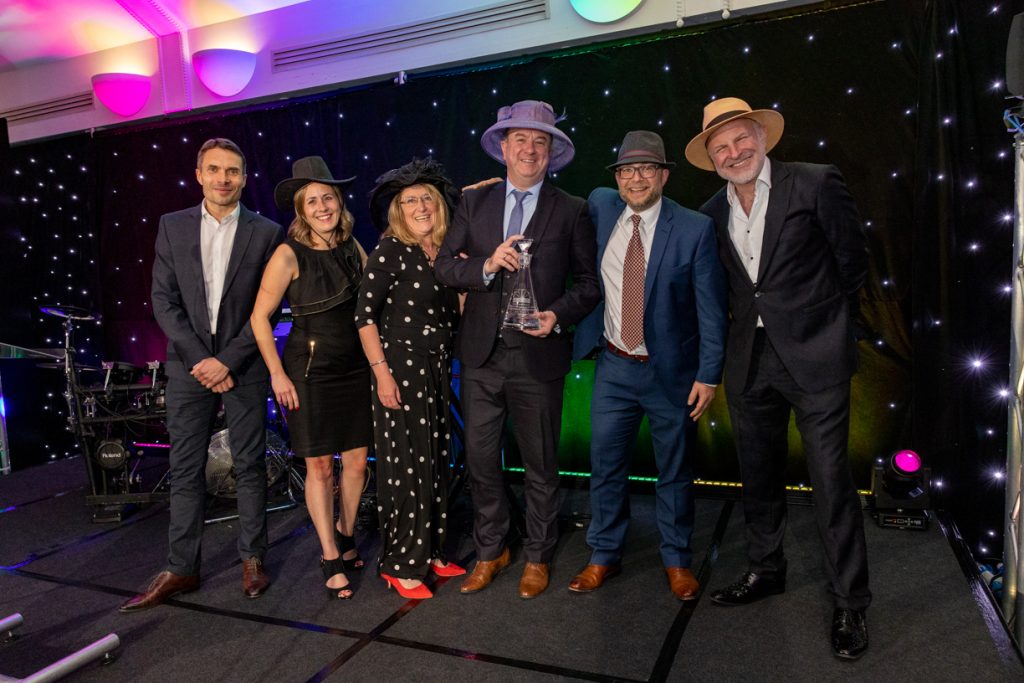 (Award presented by Tom Kalicki (left), Pictures Experience)
This was surely the most impressive category of the year and reflected in the doubles for Bronze and Silver that were awarded.
BRONZE Hopper and Clarion Communications – Aldi UK Veuve Monsigny Champagne
This pop-up wine bar had already had success in other categories. It was the brand experience winner this year with judges being impressed with the brave commitment to a relaunch strategy that put the brand event and its associated PR at the centre of a campaign that led to 1 million extra bottles being sold vs the previous year.
BRONZE Powerforce – Madri
The success story of Molson Coors' European lager Madri is visibly evident at on trade and off. Powerforce told their story of how they took the beer to success in the off-trade, becoming number one on the supermarket shelves and outperforming arch rival Stella Unfiltered. Judges praised the sales, merchandising and compliance team for their determination to make every call count and for their joined-up team approach at grocery, convenience, and wholesale.
SILVER PRL In-Market Solutions – Lucozade Alert
PRL and Suntory Beverage and Food Ireland (SBFI) were given the huge responsibility of being the first market to be trialled for the global launch of Lucozade Alert, the brand's first foray into stimulants.  The team undertook a rapid distribution campaign gaining 80% distribution or Original and Tropical variants in 34 days.
Siobhan Drummond, Lucozade Senior Brand Manager testified,
"February 2022, saw Ireland's #1 Energy Brand explode into the stimulant energy category. Our field activation plan was best in class, hitting unprecedented distribution & activation results. Making sure Lucozade Alert was unmissable in the trade from launch, further supporting our heavyweight TTL launch activation."
SILVER REL Field Marketing – Cadbury, Caramilk
The REL team were able to show off their crucial part in the journey that saw Cadbury Caramilk gain £26M RSV (Nielsen data at time of entry).
This figure was used to make the bold statement that Caramilk had been the biggest launch in Cadbury history.
This remarkable launch showed how they helped Caramilk buck the trend of a declining market, supported by detailed statistics drawn from all four grocery multiples.
The entry also detailed how this team was able to draw upon its rich history working with Cadbury to push beyond previous benchmarks.
Judges also liked the way that the REL Mondelez team put the focus on the help they provide stores with identifying and solving stock issues. The strong level of trust and partnership between stores and the field marketers helped both to achieve unprecedented sales and was supported in the entry by numerous testimonials.
GOLD Field Sales Solutions – Lenor Outdoorable
When it comes to major product launches, trusted strategic field relationships often deliver dynamic results.
In this entry the seamless relationship between P&G and Field Sales Solutions really resonates so that the field launch, at Tesco, Morrisons and Asda is understood to be the place where all the other strands of the launch are brought together.
A strategic plan allowed not just the NPD to thrive on the shelves but to increase sales across the fabric care and fabric enhancer category, pointing towards sustained success for P&G.
The performance in store was underpinned by training and prep delivered to reps' homes during the pandemic.
Strategies and results were given by store group, showing a nuanced approach to impacts and interventions.
"Lenor Outdoorable is one of the biggest, if not the biggest NPD launch the FE category has ever seen. It won Kantars 2021 FMCG product launch of the year, delivering over £25m in Value sales, nearly 50% of that coming incremental to the category. Given an entirely new concept, the FSS team were instrumental in educating store staff/managers what the concept was, ensuring that it had good visibility in store and won any discretionary space. The team were incredibly helpful in ensuring that shelves and displays were well stocked and that retailers that had Outdoorables shelf trays had executed properly. Given it exceeded our original forecast, the FSS team were quick to react, ensuring that customer teams were aware of any OSA's so we could work with our retailers to order more stock to store. Thanks again for all your help, it really does make a massive difference!" 
Matt Huff, UK & Ireland Commercial Strategy Manager – Lenor & Fairy P&G 
Lenor Outdoorable was also praised as product launch of the year by The Grocer.