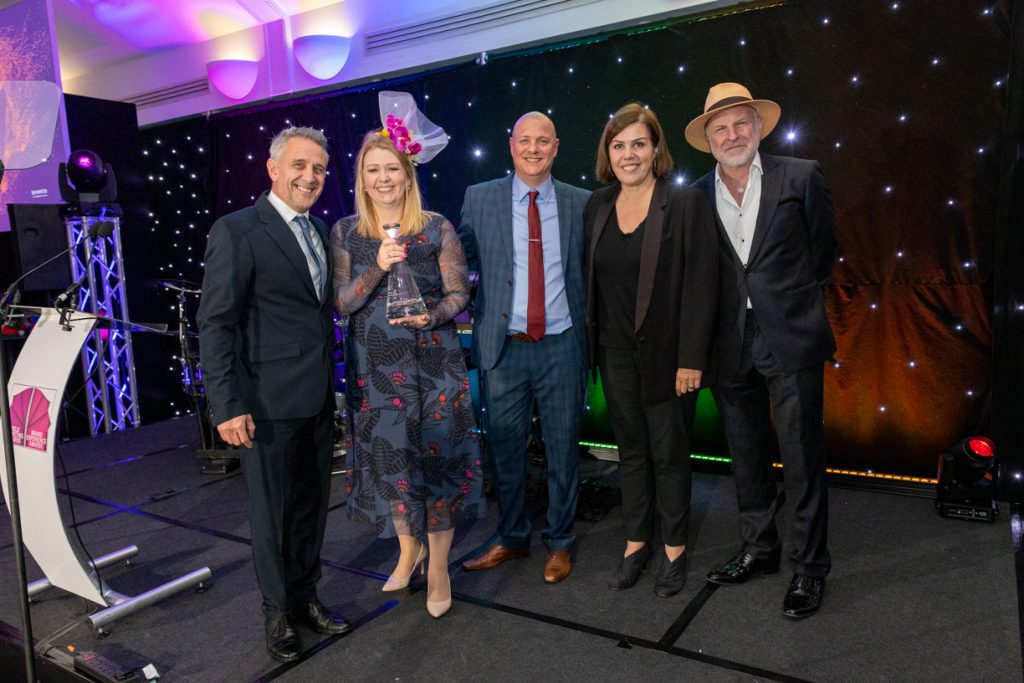 The top two in this one really stood out for being both brave and results driven, whilst the bronze award furthered the status of a proven winner with fans of the brand. Award presented by Andrew Bodwick, SpaceandPeople.
BRONZE The Producers – LEGO
The Producer's showed off their digital acumen in this event for long-term client Lego. The live experience, a Christmas carousel, created a successful spectacle, but judges felt that it was the online and social connections that really stole the show.
Using Matterport's 360º capture tech, the campaign was able to invite those families across the UK that couldn't get to the event itself into the 'The Carousel Of Creativity' experience as well. Whilst virtually walking through the site online, families could also view embedded passion point themed videos and take part in trying to spot Santa's Little Helpers.
A total of 16k Lego fans visited the LEGO.com landing page, +30% more than visited the Matterport experience in total in 2020
With over 12 million Snapchat impressions, the content achieved over 2.7 million video completions with a completed view of 87% against a snap benchmark of 70%.
SILVER Hopper and Clarion Communications – Aldi
10 years ago, there was a campaign that looked a bit like this one – when Morrisons chefed up its own brand M Kitchen meals and own brand wine to an unsuspecting set of diners at a pop-up restaurant.
This was a new take on that idea, from masters of mimicry Aldi, promoting Aldi's Veuve Monsigny Champagne.
The new take was bravely targeted at champagne snobs. They created an ultra-premium Champagne Bar a cork's-throw away from Selfridges on Oxford Street, in one of the UK's most expensive postcodes.
At the 5-day pop-up, customers tried the Champagne, knowing nothing more than it was a classy bar in the heart of London. The event team captured their feedback on camera, which varied from 'it tastes just like Moët & Chandon' to 'I'd pay £20 for a glass', before unveiling the Champagne was Aldi's and on sale for just £2.33 a glass or £13.99 a bottle.
Interest was elevated by VIP appearances including the ultimate toff, Georgia Toffolo, from Made In Chelsea who shared her experience with her 1.8 million followers.
The event together with Clarion's PR drive anchored a Christmas product relaunch for the champagne that saw it sell 1 million more bottles over the festive season than it had the previous year.
GOLD We Are Collider – Arcane
Riot Games were launching a new animated series Arcane on Netflix, based on their popular PC game League of Legends. Strategically, this moved them from gaming into entertainment and they wanted to bring the loyal fan base on the journey to the animated series and for them to become real ambassadors to the transition.
We Are Collider (WAC) was asked to conceive and produce a cultural moment around the Arcane launch through a global experiential campaign.
WAC created its own narrative centred around Jinx, the series' main protagonist, that played out In Real Life. The story evolved as it moved across the globe, posing questions and leaving easter egg clues in six cities.
Kicking off with a takeover of the world's tallest building (the Burj Khalifa in Dubai), we produced a custom 3-minute film which got hacked by Jinx, as a teaser of what was to come. Footage of the activation was posted on the global League of Legends YouTube channel.
WAC then took over empty retail spaces in 6 global city centres in turn (Paris, London, Madrid, Istanbul, Singapore, and Los Angeles). Lifting a key story strand from the series (the advancement of Hex crystal technology), WAC turned the retail spaces into flagship 'Hextech Expo' stores to showcase the technology.
Three storytelling phases then unfolded; in the last phase the store failed to open and was instead destroyed, using various scenarios in keeping with the series and its inspiration.
These events generated masses of social conversations and convincing statistics including a 542% increase in weekly social mentions vs League of Legends average. In terms of the big picture:
Arcane achieved 34 Million Series views in 6 days
Arcane reached No. 1 on the Netflix charts in 52 countries