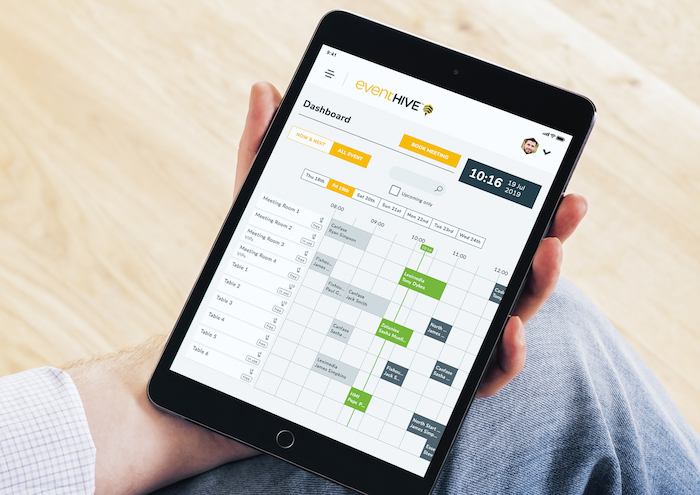 2heads has launched a new version of its cutting edge strategic B2B event management tool – EventHive.
EventHive has been rebuilt from the ground up at significant investment from 2heads, introducing a powerful, real-time architecture and flexible CMS to empower event professionals, streamlining event management to allow teams to work independently and remotely.
Bolstered by more than 30 years of event production experience, 2heads' expert development team has redesigned EventHive, which first launched in 2016, to enable brands to fully optimise the allocation of meeting rooms regardless of location, time zone and date, eliminating manual tracking.
EventHive is also platform agnostic and provides robust measurement for clients by capturing real time data, including meeting feedback, room capacity percentage and conversion rates, generating live reports pre, during and post-event. EventHive can track ROI on a granular level, complementing tools like Salesforce. Alongside this, it provides flexible communications for users across any device via email and SMS alerts.
The product was recently unveiled as part of a Hotel Management International (HMI) event in Montreal, where it was used to coordinate a 400-person gala dinner, providing a first-hand look at how the new features can be utilised and integrating a bespoke badging function. Following this successful pilot, the new EventHive is being rolled out to new clients including NBC, Disney, Bombardier and BNP Paribas. New features and integrations will be added on a monthly basis, paving the way for ever deeper control and insights.
Nick Rosier, content and digital director at 2heads said: "EventHive is a truly unique tool that we believe will revolutionise the meetings, incentives, conferences and exhibitions industry. Created as a powerful replacement for Excel and email, the new and improved software provides clients with autonomy over the system for the first time, allowing them to run it across multiple sites and events independently while generating real time data and insights.
"Building on our expertise of designing innovative experiences for global brands, the natural step for us as leaders in the events space was to develop an automated system to automate a core part of the event management process, making meetings and communication simpler to manage while providing valuable, actionable insights. It was vital that EventHive performed at the same standards of professionalism that brands run their global show programmes with and we are excited to bring this new innovation to market.
"The launch of EventHive also represents the next chapter of our business, strengthening our technological credentials and bolstering our reputation as a full-service agency. We have big plans for the platform over the coming years and look forward to supporting some of the world's largest brands with this and other tech."