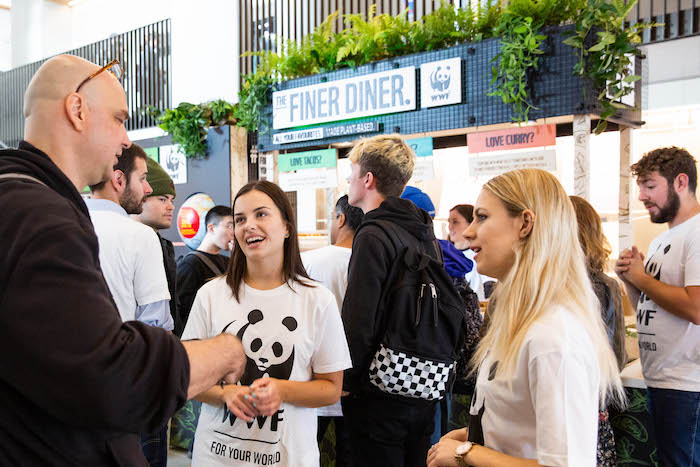 Climate change, ocean pollution and deforestation seems to be the hot topic at the moment,  but what is often overlooked is that food is actually at the heart of many of these issues, responsible for almost 60% of global biodiversity loss.
Identifying that younger generations are potentially the last who are able to act, global services company Sodexo and WWF have collaborated to raise awareness of the impact of food choice to university campuses across the UK, with the launch of 'The Finer Diner'.
The touring pop-up initiative, created and delivered by global brand experience agency Sense, aims to educate students on the environmental benefits of plant-based foods by offering a planet-friendly twist on classic student dishes such as tacos, kebabs and curry.
"The Finer Diner's menu tempts students with free samples of their favourites, which when ordered are revealed to be completely meat-free. We wanted to show students that they can still enjoy the food they love and do their bit for the planet, without compromising on taste." explained Sense account director, Beth Nicholas.
Commenting on the campaign, Nick Hughes, food sustainability adviser at WWF said: "Our aim is to encourage students to explore plant-based foods and help them make the connection between what they put on their plates and its impact on the planet. Young people represent the future of our society, and we feel that encouraging them to make the switch could have a major influence in the fight for our world."
The Sodexo / WWF Finer Diner campaign began on 7 October at UCL and will run until 25 October, visiting Solent University, Coventry University, York St John University and Trinity College Dublin. Students at these universities will be able to sample 100% plant-based dishes, which will then become part of the menus at all Sodexo-run university restaurants.