The UNIT9 Group is launching a new division – Attractions by UNIT9 – to enhance the visitor attractions market with its unrivaled expertise in creating physical environments and digital/hybrid experiences that suspend disbelief by capitalising on next-gen technologies. The division will be active across the Americas, Asia, Europe, Middle East, the UK and USA.
The new division will partner with museums, cultural institutions, retail, hospitality, global expos and theme parks to help maximise the compelling experience opportunities that come with advancements in AR, VR, XR, Web3, metaverse experiences, immersive theatre, gamification, world-building, avatar creation and high-craft 3D.
Attractions by UNIT9 will be headed by new recruit Daniel Burzlaff, who has designed, created and produced major shows, attractions, exhibits, events and experiences in a career spanning over 35 years and 20 countries. Burzlaff previously worked as EP on the immersive side of the Roald Dahl Story Company and led the early design and production effort for The Wizarding World of Harry Potter at Universal Studios Beijing.
Burzlaff will be supported by new hire Gigi Bee as Executive Creative Producer. Working alongside heavy-weight architect firms including Santiago Calatrava, Foster + Partners and Daniel Libeskind, Bee has directed and produced installations for some of the world's biggest expos, including Dubai 2021 and Milan 2015.
The Attractions by UNIT9 team will be further strengthened by the addition of two UNIT9 Creative Directors: Kate Lynham (whose recent projects for UNIT9 include an AR-integrated sculpture at Goodwood Festival of Speed for Lotus Cars, interactive window displays at Berlin's KaDeWe store and a projection-mapped game of Candy Crush) and Sean Pruen (the director behind UNIT9's Cannes Grand Prix-winning experience for ASICS, kinetic installation for John Legend x Stella Artois and interactive live stream launch event for Xbox), who will both bring their creative expertise to the new division.
The launch of Attractions by UNIT9 comes hot on the heels of The UNIT9 Group opening M.A.D (the Metaverse Advisory Dept) in January 2022; another division that leverages the group's world-respected strategy, innovation, craftsmanship and limitless creative thinking to help clients reach future-facing audiences.
UNIT9's EMEA MD, Rosh Singh, said: "Over the past five years, UNIT9's business has experienced incredible growth within the attractions and location based entertainment sector. As we sit at the precipice of the Metaverse/Web3 era, we are incredibly excited to be able to bring two and a half decades of innovation, cutting-edge craft and creativity into this already electrifying market. Having Danny spearhead this effort for us is nothing short of an honour and we cannot wait to share some of the transformational work we are doing in this space."
Head of Attractions by UNIT9, Daniel Burzlaff, added: "I'm thrilled to join the UNIT9 team and head up this incredibly exciting new division, created specifically to help guests, consumers, brands and institutions reimagine reality to unlock the future of experience. Drawing from the strength of the global UNIT9 production powerhouse, we'll be delivering the full weight of bleeding-edge technology married with exceptional story-driven content to reshape the visitor attractions landscape and reset sensorial expectations. We're ready to share the power of Attractions by UNIT9 with the world."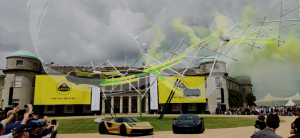 Will Kinsman, Events Creative Director at Goodwood Festival of Speed commented: "Thanks to UNIT9's involvement from creative concept through to delivery, we were able to launch a world-record-breaking tensegrity sculpture enhanced with an AR layer to wow guests at the 2021 Goodwood Festival of Speed presented by Mastercard. UNIT9's creative and tech-led expertise made them an ideal partner to transport the Festival into a new digital era for audiences to enjoy both in person and at home."
Rania Ghalwash, Director of the Projects Development Unit at Lead Marketing Solutions shares some insight on their upcoming collaboration with the Attractions by UNIT9 team: "Working with Attractions by UNIT9 on an upcoming immersive cultural experience in Egypt has meant that the inconceivable can truly become a reality, thanks to their razor-sharp focus on innovation and craft. We can't wait to unveil our spectacular work together later this year."