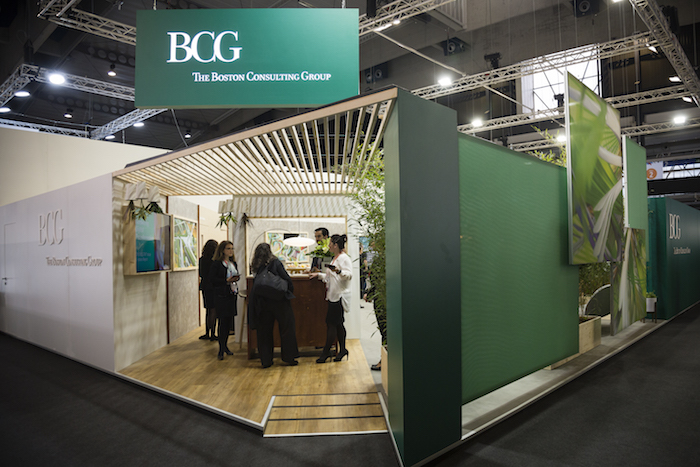 The Boston Consulting Group (BCG) has created its debut brand experience at Mobile World Congress (MWC). MWC is underway this week from the 26th February to 2nd March at Fira Gran Via, Barcelona.
BCG's mission for MWC is to host clients and guests in a private environment where they can experience the firm's DigitalBCG content, capabilities and experts.  This includes a welcoming and collaborative space for focused conversation as well as a speaker corner for a more formal presentation content program.
At the heart of the Digital BCG lounge, a bespoke microsite run on six, 55-inch touch screens deploys an interactive web portal experience for guests to explore how they can harness the power of digital technology to create unparalleled and transformative opportunities for their businesses.
Thierry Chassaing, senior partner and managing director, BCG, said "Investing in the right digital technology—and especially the right partner—plays a critical role in business transformation.  So we are excited to bring to life DigitalBCG through our collaborative experience at MWC, which is clearly an important and preeminent industry event."
The experience at MWC is also designed to create a premium brand experience and bring The Boston Consulting Group's personality and brand purpose to life.  Reflecting the diverse culture of the firm, which has offices in more than 90 offices in 50 countries, cultural touches from the firm's offices in New York, London and Tokyo are woven into the experience's meeting room spaces.
Mike Kunheim, managing director, Jack Morton Worldwide, commented "Working with The Boston Consulting Group to create its first MWC experience has been a privilege.  Brand experiences have a unique power to showcase innovation in a way that truly connects with people – we're delighted to have achieved just that in a fantastic partnership with BCG."
Chassaing continued, "We were delighted to partner with Jack Morton and welcomed their creativity, expertise, and vast experience at MWC in bringing our DigitalBCG experience to life.