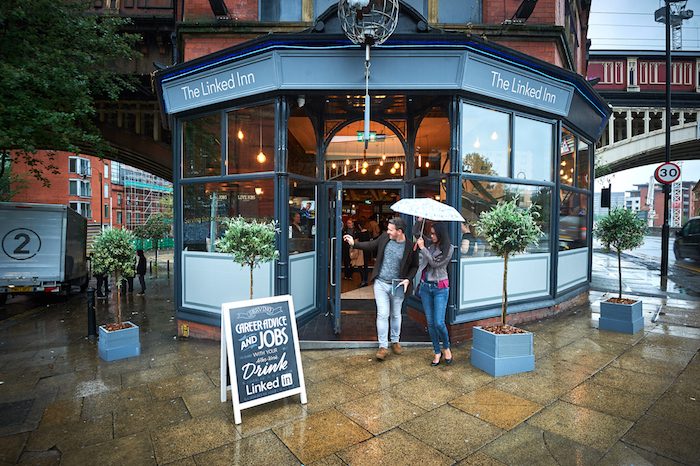 LinkedIn rolled  out  its pop-up pub, The Linked Inn, in in Manchester and Bristol following a successful run in London earlier this year. The pub was designed to demonstrate the volume and breadth of jobs available on LinkedIn, as well as how socialising with a professional community is beneficial to achieving the job you want.
Guests could take advantage of 'Daily Live Jobs Specials' – vacancies at some of the UK's top companies, including Heinken, John Lewis Partnership and H&M who were there to meet potential candidates, while LinkedIn experts provided career advice 'on tap' helping punters to boost their online profile and understand how to make the most of their professional community.
The Linked Inn supports the evolution of LinkedIn's wider 'In It Together' campaign which first launched in 2018 focusing on how LinkedIn's diverse community of professionals help each other to find the right job. Today, the company has amassed more than 20 million job listings – a significant step change from the 30,000 it offered five years ago, and sees its 630 million users collectively applying to jobs 25 million times per week. Over the last year, four million people have secured a job through LinkedIn, an average of one person getting hired every eight seconds
When the doors first opened in London in March, the pub received double the number of attendees than expected, prompting LinkedIn to expand the initiative across the UK. The launch of The Linked Innin Bristol and Manchester coincided with the brand's marketing investment in those cities, which includes an extensive OOH as well as wide-ranging radio, digital and social executions. In addition, the campaign will also feature heavily in the capital, also with an extensive OOH and digital activations.
Darain Faraz, Head of Brand, EMEA & LATAM, LinkedIn comments: "We have been heartened by the response to our In It Togethercampaign where we've successfully demonstrated the value of our community in helping our members get closer to the job they want. The Linked Inninitiative in particular brought this sentiment to life, and the positive feedback following our London event, from both members of the public and participating companies, was really encouraging. As we continued to evolve the campaign, and highlight our 20 million jobs on our platform, it was a no brainer to re-open the doors to The Linked Inn to other UK cities."
In Manchester, the event took over The Atlas in Deansgate – a pub owned by Heineken, who contacted LinkedIn about involvement in future events.
Jane Brydon, HR Director at Heineken says: "The Linked Inn event caught our eye when it was in London. We loved the message that there's so much more to pubs than just having a pint – they're places where communities come together, and in this instance, maybe even get a job!
We're delighted to be working with LinkedIn by providing the pub for Manchester's event as well as showcasing the career opportunities at our local brewery, Heineken Manchester. We're always on the look-out for great people and we see LinkedIn as integral to this process. Who knows – the next time you're in a pub with your mates you could be safe in the knowledge that you had a hand in brewing that pint!"

·      Daily 'live job' specials' –A series of live job vacancies were on offer at the pub from companies, including Heineken, H&M, John Lewis Partnership, Hargreaves Landsdown and Auto Trader. Attendees could meet with hiring managers to find out more about the role and even land themselves an on-the-spot informal interview.
·      Career advice on tap –A number of LinkedIn experts were available throughout the event to help members improve their professional profiles and find out how to make the most of their online network.
·      Professional makeovers –Guests had the opportunity to spruce up their profile picture with the help of a professional portrait photographer.
Agency Brands2Life were behind the activation