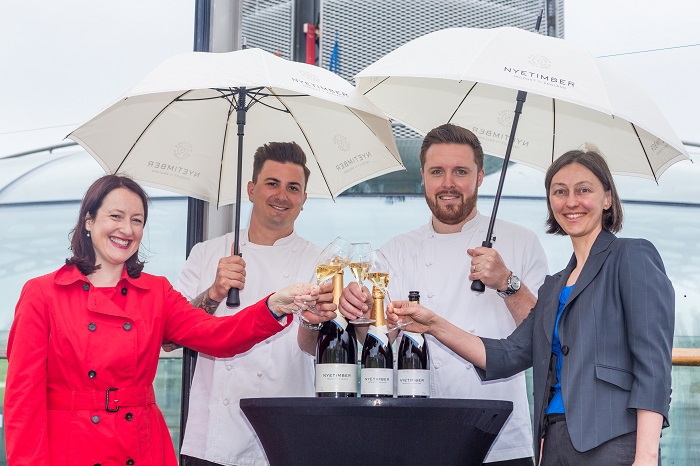 Nyetimber, has been announced as the naming partner of the Sky Bar on British Airways i360
The Nyetimber Sky Bar is located inside British Airways i360's aerodynamically designed glass pod. Customers will glide slowly up to 138m for 360-degree views of Sussex whilst drinking a glass of Nyetimber's Classic Cuvee sparkling wine and other drinks from the South Downs region.
British Airways i360 is currently under construction on Brighton beach and will be the world's tallest moving observation tower when it opens this summer. It is conceived and designed by Marks Barfield Architects, creators of the London Eye.
Nyetimber's English sparkling wine, which is produced in West Sussex, will also be available in the attraction's 400-seat restaurant the Belle Vue.
British Airways i360 CEO Eleanor Harris said: "Our vision for British Airways i360 is to serve the region's best food and drink and to showcase this on an international stage to our visitors. We are proud to partner with Nyetimber, which is a world-class sparkling wine produced in a Sussex vineyard overlooking the South Downs.
"We know our customers will be just as excited about our partnership with Nyetimber as we are. English sparkling wine is increasingly recognised as being just as good as French champagne – the chalk soil in the Sussex Downs region is similar to the chalk found in the Champagne region, and our climate is remarkably similar. In fact, French experts recently chose Nyetimber above a Grand Cru champagne during a blind taste challenge."
MasterChef: The Professionals Winner Steven Edwards will be creating signature dishes at British Airways i360 with business partner Josh Stanzl; working with catering firm Heritage Portfolio.
Visitors to British Airways i360 will also be able to toast the 360-degree views of Sussex with other locally sourced drinks – Harvey's ale and Wobblegate juices will also be served in the Nyetimber Sky Bar and in the Belle Vue restaurant.
Harvey's Brewery sales and marketing manager Bob Trimm said: "Harvey's Brewery is delighted to be on board as the official real ale supplier to British Airways i360. We are proud to be associated with such an iconic attraction and hope that many customers will enjoy a pint of Sussex Best by the sea."