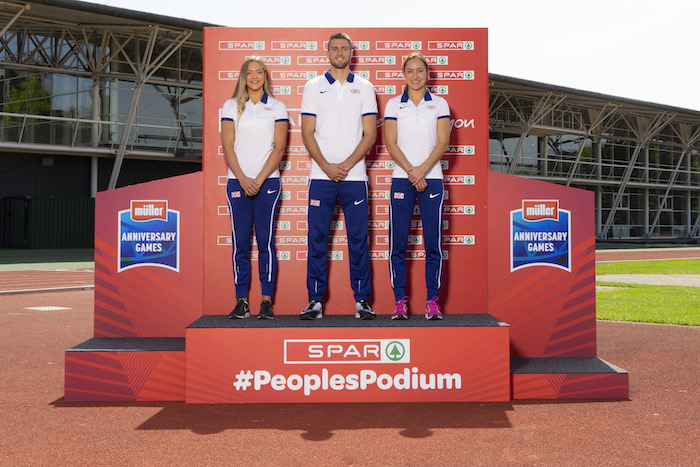 Spar, partner of British Athletics, has launched a new campaign designed to support community sport across the United Kingdom. 'The People's Podium' will see Spar celebrate a selection of local community sport heroes and provide £18,000 of funding for their projects.
Members of the public can nominate individuals that they think deserve recognition.
An expert panel made up of representatives from Spar and British Athletics will select the five most deserving individuals based on their achievements and the impact they have had on their local community through sport. Each of the five individuals selected will be awarded a £2,000 cash prize to go towards their project, with one overall winner earning a total of £10,000.
Spar is also committed to using its sponsorship of British Athletics to bring athletes closer to their communities, with a selection of athletes – Dina Asher-Smith, Andrew Pozzi, Eilidh Doyle, Tom Gale, Emily Diamond, Megan Marrs and Holly Bradshaw – set to play a part in the People's Podium campaign.
The athletes will be working alongside Spar to help encourage more nominations and reward the individuals voted on by the public. Athletes will visit one of the five winners in their own community to see first-hand the work they do and give each winner an unforgettable experience.
With over 2600 stores across the UK, Spar is at the heart of many local communities. The People's Podium campaign is a demonstration of Spar's commitment to always be there to support local people and their communities, anytime and anywhere.
It continues the legacy of the Spar Sprint Stars programme that saw Spar support the career of athletes including Andrew Pozzi, Martyn Rooney, Danny Talbot and Desiree Henry. The Sprint Star programme saw Spar give financial support and other benefits including food, travel, kit and advice throughout the year to help athletes make the difficult transition between junior and senior athlete.
Speaking at the launch, Michael Lawless, Interim Brand & Marketing Director at Spar UK said: "All over the UK, SPAR is at the heart of communities. We've long believed that sport is one of the best ways of bringing these communities together.  But sport can't succeed without the committed individuals that give so much.
"The People's Podium is a simple campaign to celebrate and reward the unsung individuals that do wonderful things through sport. We hope that this campaign and the funding we will provide will enable more people to experience the benefit of sport in their area."
Andrew Pozzi said: "I am really excited to be involved in the Spar People's Podium campaign. I would never have managed to represent Great Britain and achieve what I have so far in my career without a team of people offering me advice and guidance as I developed, both as an athlete and a person. I was also fortunate to benefit from the Spar Sprint Stars programme which was run by some incredible people. Individuals like this are at the heart of sport in this country and I am really pleased that Spar have committed to helping support and celebrate them with this campaign."
British Athletics' director of strategy & partnerships, Nigel Holl said: "We are delighted to be working alongside SPAR once again on the People's Podium campaign. Spar first partnered with British Athletics in 2003 and has played a direct role in supporting athletes all over the UK.
"Sport in Great Britain and Northern Ireland relies on countless individuals who support and inspire within their local communities, therefore we are delighted to be working with Spar on a campaign that will serve to celebrate and reward these people and their vital contributions."