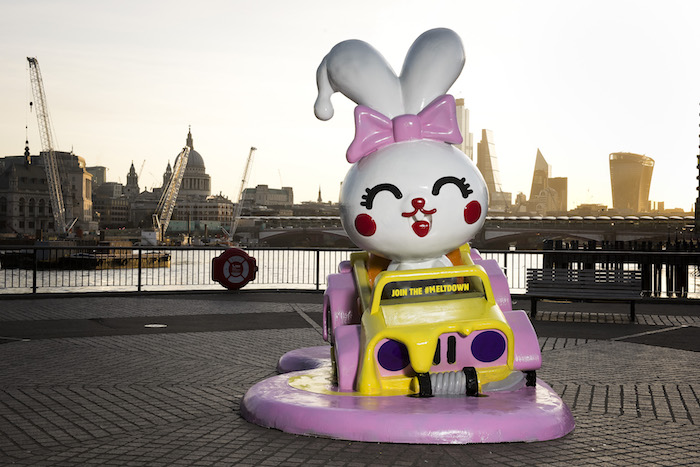 New campaign by Jones Knowles Ritchie reveals sustainability initiative to remove plastic toys from all King Junior Meals and give toys from any fast-food chain a new life as something good.
Burger King has launched a new initiative called 'The Meltdown' to take a stand against plastic, by removing all toys from King Junior Meals and melting them down for good. The supporting campaign calls upon the public to donate any unwanted meal toys to be recycled, teaching old toys new tricks and saving an estimated 320 tonnes of single use plastic as part of the company's ongoing commitment to improving sustainability practices across the entire business.
Concepted and developed by Jones Knowles Ritchie (JKR), the Meltdown launches with a multi-channel campaign including digital content, OOH, in-store, PR and experiential. The initiative has been executed in partnership with several of BK's agency partners including Frank for media strategy and public relations, and Sketch Events for production, whilst Pentatonic is providing product design and closed-loop technologies.
Plastic toy amnesty bins will be installed in each of Burger King's 500+ restaurants across the UK, where the public is invited to 'Join the Meltdown' by dropping off their free meal toys even if they're not from King Junior Meals. Those who donate between 19th-30th September will receive a free King Junior meal with any purchase of an adult meal, as well as special edition sticker sheets, Meltdown BK crowns and Meltdown King Junior Meal boxes.
To get kids on board with the initiative, JKR developed a cast of melting characters to bring to life the positive impact this change will have on the environment and communities. A jeep-driving bunny – Beep Beep; an oversized robot – Mr Hugglesworth; and a wind-up T-Rex – Roary, are designed to highlight the growing problem disposable toys are causing the environment and, through their distinctive personalities, create an emotional connection to sustainability for the next generation of consumers.
Stephen McDavid, creative director at JKR said: "Burger King came to us with a huge ambition; to remove plastic toys from their King Junior Meals. We knew BK had the opportunity to create a movement that everyone could get behind and that families would want to engage with, so we came up with a simple idea, inspired by Burger King's irreverent spirit: melt down all plastic meal toys and transform them for good. Kids are still hungry for an experience, so it's brilliant that these toys will be transformed into play areas and playful experiences that last longer than a few minutes. To capture attention, we needed to create a campaign identity that was as big and bold as the toys we would be collecting, although it originally felt strange to create something we knew we would ultimately melt. This is a huge step forward for kids' meals of the future and we hope the campaign will encourage kids, parents, and even Burger King's competitors to join the meltdown."
A Beep Beep art installation, produced by Sketch Events and made entirely of recycled materials, popped up on London's Southbank. It represents Burger King's efforts to bring global attention to the giant problem disposable toys cause the environment, and create a photo opportunity to amplify the campaign. Nearby, Burger King's UK flagship location at Leicester Square will feature a campaign takeover with designed 'Meltdown' exterior, interior campaign visuals, special edition packaging, and unique staff uniforms.
Katie Evans, marketing director at Burger King UK, said: "Removing plastic toys from our kids' meals represents a huge step for the brand in the UK and we knew we couldn't do this quietly. The provocative idea that JKR presented demonstrated the engagement we were looking for; we knew it would capture the nation's attention and change kids' meals forever. This is an opportunity for us to lead radical change in our industry and we know we can positively contribute to finding new, more sustainable solutions, long term."
Fernando Machado, global chief marketing officer at Burger King, said: "We are a global brand, and the UK market will be leading the way in making this first step towards change, which is part of our wider commitment on reducing plastics. Work is currently underway across all of our markets to look at how we can completely move away from non bio-degradable plastic toys by 2023."
At the end of the campaign, Pentatonic, a Circular Economy company, will locally disassemble, separate and recycle the toys, bringing them back as play areas and surface tools, which can be recycled again and again.