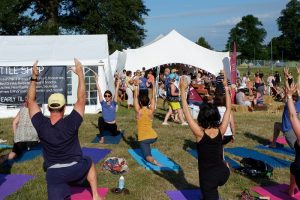 With last year's Dorset Cereals experiential tour delivering 25 live days, 100,000 sample giveaways and an experiential reach of over 280,000, the brand has again teamed up with Circle Agency to activate its UK tour.
Building on the success of last year's campaign, Circle Agency are taking the Dorset Cereals UK Tour to a series of events throughout the summer to showcase its range of products. The Dorset Cereals sampling bar will visit a number of family-friendly festivals including Deer Shed Festival, Camp Bestival and Carfest South, allowing festival-goers to see, touch and taste the product range on offer. A host of handmade family games and activities will be available on the stand to keep visitors entertained and reflect the Dorset Cereals brand. The brand will build upon last year's prize draw campaign by offering consumers the chance to take part in its new photo mechanic and win a trip to Dorset. Circle Agency has refreshed the festival schedule to enable a more focused target audience to discover the brand and its new products.
The Dorset Cereals Campsite Takeover also headed back to Cornbury Music Festival for the festivals final year, in an attempt to bring breakfast joy to campers. Last year the takeover saw over 3,000 wet samples served, 124 families had a helping hand putting up their tents and over 152 people participated in Dorset's morning yoga sessions. Festival-goers are invited to a free Dorset Cereals 'breakfast extravaganza' complete with long banqueting tables lined with the Dorset Cereals products, and a range of morning activities including yoga, kids morning wake up sessions, face painting, festival headband decorating and an all-day family games area. To further enhance the ambience and create a festival vibe within the tent, a live acoustic performer played for campers throughout the day.
Claire Stokes founder and managing director of Circle Agency comments: "Having last year proved that deeper engagement leads to stronger ROI, Dorset Cereals has once again invested in experiential. Having witnessed strong overall results last year it has cemented the channels value within the overall marketing mix. We have analysed and built upon previous successes, identifying which aspects of the campaign worked best and evolved our activities to form this year's tour. We were able to closely analyse last year's impact and are hoping to further build upon this during this year."
Alex Naranjo, marketing manager for Dorset Cereals comments: "We are very excited to be out on the road again this year. We have lots of new products to share with people and can't wait to meet them to see what they think. We learnt so much from our consumers last year that it made total sense to build on this. We have again worked to create a premium experience that reflects our brand and have already had a great start at Wychwood Festival."