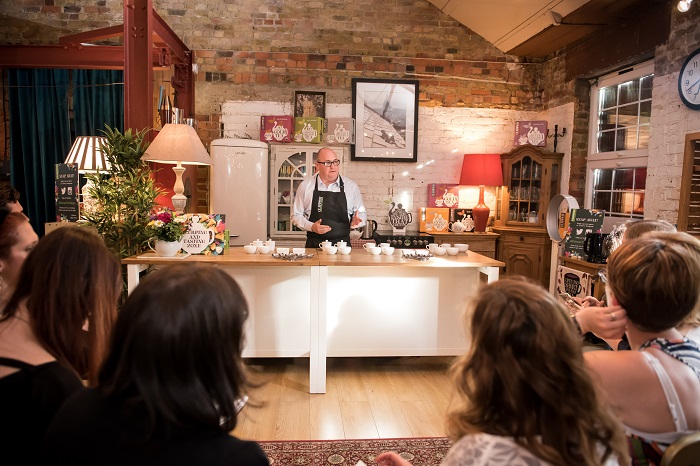 Clipper Teas launched the second phase of its Flavour that Sings campaign with a unique afternoon tea event on 23rd May. The event included a live performance from the brand's dedicated three-piece vocal group, The Clipperettes.
Clipper, the Fairtrade and organic tea brand owned by Wessanen UK, has launched the second phase of its impactful Flavour that Sings campaign with an event that focused on the superior taste of its everyday tea.
The launch event, which took place on 23rd May, was an afternoon tea which included a unique tea tasting and a live performance from Clipper's dedicated Flavour That Sings band, The Clipperettes.
Led by Clipper's own tea tasters, master blender, Dan and head of buying, James, and acclaimed flavour scientist Dr Rachel Edwards-Stuart, guests gathered in the Clipper tea tasting lounge for a fun and informative tea-tasting session to uncover the secret behind the superior taste of Clipper's everyday tea range.
Consumers were given the opportunity to win tickets to the event through an engaging competition on Clipper's Twitter, Facebook and Instagram channels and joined other key influencers, bloggers and media at the exclusive event in London.
The Clipperettes will be central to the Flavour That Sings activity this year. A three-piece female-vocal band formed by Clipper's creative agency Aesop, will be filmed putting their own distinctive spin on some pop classics and shared across the brand's social media channels.
The video launch coincides with a high-impact consumer competition on social for fans to win a live performance from The Clipperettes, either at their home or place of work. Offering a unique brand experience, the band will arrive complete with afternoon tea for the winners to enjoy while watching the performance.
The Flavour that Sings summer activity will conclude with an on-the-ground consumer sampling activity, taking 250,000 samples of Clipper's Organic Everyday Tea to busy commuter areas around London, accompanied by The Clipperettes.
Adele Ward, Clipper Teas Brand Controller at Wessanen UK, says: "At Clipper we make it our mission to make the greatest-tasting tea. We source the best tea leaves from the world's finest tea gardens across East Africa, India and Sri Lanka and work hard to perfect a beautifully balanced blend; creating a high-quality tea that delivers a fanfare of flavour.
"Our Flavour that Sings campaign is aimed at winning us new fans by communicating the delicious taste of our everyday black tea. This has carried through from our initial outdoor advertising creative to the experiential activity we have planned with The Clipperettes over the summer.
"We want consumers to feel immersed and join in the melody. It's all about enjoyment, and it reflects our brand personality: natural, bright and full flavour."
The campaign began in January 2017 with a large-scale outdoor advertising activity which represented Clipper's biggest-ever advertising drive. The eye-catching artwork targeted tea-drinkers across London and the South East, reaching 60% of the target audience (women aged 25-55).