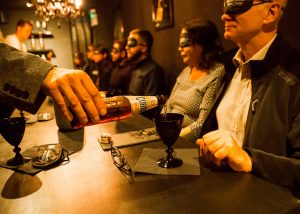 Molson Coors has launched a campaign designed to celebrate its beer brand Cobra's strong connection with food.
The 'Brewed Smooth for all Food' campaign begins during June's London Food Month, where Cobra is the Official Beer Partner. Working with real world marketing agency Sense, the Cobra team will be bringing its 'Flavour Room and Bar' to the Night Market in Kensington Palace Gardens from 7-18 June.
The experience will invite guests to explore the smooth yet complex flavours of Cobra alongside a fusion menu curated by Gary Maclean, MasterChef: The Professionals Champion 2016. For the real foodies there is also a chance to enter the immersive upstairs beer and food matching experience. As part of the wider out-of-home and digital campaign, Gary will also offer practical advice on pairing food with beer.
Inspired with flavours from around the world, Gary's menu, named Cobra Fusion Bites, will feature a collection of recipes that complement or are infused with the Cobra range. It will also be served exclusively as collections at premium bars and restaurants across London.
"London Food Month provides the ideal platform to engage with people and show how Cobra's distinctively smooth taste is the perfect complement to food," said Sense Account Director Diana Petre-Mag. "Through the Flavour Room & Bar concept we'll be able to immerse visitors to the festival in the Cobra brand."
Rob Hollis, head of world beers portfolio at Molson Coors, commented: "The premium world beers category is going from strength to strength in the UK, and demand for beers that pair well with food has never been higher. Gary's fusion menu will demonstrate just how versatile Cobra is as the perfect partner to a huge range of different cuisines from around the world."