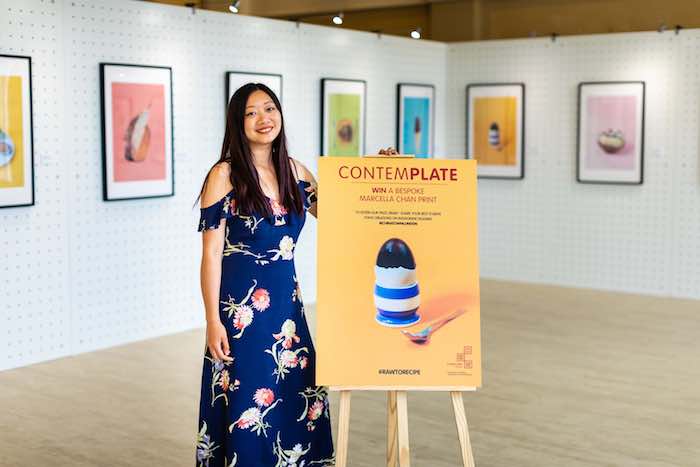 Shaftesbury have launched a free art exhibition in Chinatown London celebrating Asian ingredients, composed by young fine art photographer Marcella Chan. Guests and Chinatown stakeholders attended the launch party at China Exchange on Wednesday 10 July, to experience Contemplate, an exploration of dual identity through food.
The exhibition, which runs from 9-14 July, explores Chan's East Asian and British identity through mismatched ingredients and kitchen utensils from both East and West, creating a series of witty and thought-provoking images. The launch party event was catered by Chinatown tenants in a manner befitting Chan's concept, combining creativity and high quality ingredients. Bun House crafted an array of savoury bao; Viet Food mixed innovative cocktails and mocktails; and SeeWoo provided gift bags featuring their award-winning produce.
Julia Wilkinson, head of group restaurant strategy at Shaftesbury, commented: "Chinatown London has long served as a home away from home for the capital's East Asian community and visitors, it is a place of discovery and we are proud to work alongside Marcella Chan, a hugely talented young artist. The exhibition will show-off the extraordinary culinary and artistic heritages of regional East Asian cuisines and the connection with Western culture. We are delighted to welcome the public to Contemplate, celebrating culinary delicacies."
Marcella Chan, fine art photographer, adds: "I enjoyed playing with the colours, textures and perceptions of the foods whilst injecting a little humour to make these images accessible to all. Juxtaposing British and Asian ingredients has allowed me to draw parallels and remove the unfamiliar. I'm excited to see the reactions from visitors and hopefully inspire them to be more adventurous."
Ching He Huang, British Chinese food writer and TV Chef said: "This topic is close to my heart as I am often encouraging my friends to explore new ingredients, textures and flavours. I like the idea that Marcella will be comparing Chinese Century eggs with the quintessentially British jar of pickled eggs found on the counter of every chip shop – eliminating the unfamiliarand showing that they are both just examples of preservation.
I'm delighted to contribute my tips and recipes, found on the Chinatown website, to encourage some culinary experimentation."
To further encourage people to experiment and try something new, free recipe cards from some of Chinatown London's top restaurants, such as JinLi, Golden Phoenix and Baiwei, will be available at the exhibition. Follow @Chinatownlondon and add the hashtag #RawToRecipe to be in with the chance of winning one of Chan's bespoke photographs.
The exhibition follows the news that three exciting new dessert brands – Kova Patisserie, Taiyakiya, and Meet Fresh – have signed for space with Chinatown London, and Hot Pot has relaunched as Chalida, an authentic Thai restaurant combining age-old homestyle dishes with interpretations of Bangkok street food.