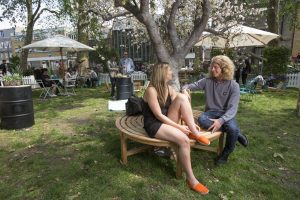 To celebrate the start of summer, restaurant delivery service Deliveroo is unveiling  a 3-day pop up event in central London which will run from 8th-10th June 2016.
City dwellers will be able to step out of the hubbub of the concrete jungle and into a secret garden, with plenty of sheltered nooks and open-air spaces to relax. Open from 11am; during the day the Garden will act as a chill-out space, alfresco meeting room, or simply somewhere for busy Londoners to have lunch in the sun  guests will be able to order food from a  variety of nearby restaurants and have it delivered straight to the Garden.
Each night, alongside a guest DJ, The Deliveroo Garden Bar will play host to popular drinks partners who will provide wine, beer and cocktails at reduced prices. Secured partners include: We Brought Beer, Clapton Craft, The Sampler, Lea & Sandeman, Borough Wines and Boost Juice.
On arrival, guests will be provided with a voucher code to waive the standard £2.50 delivery fee, meaning they can sample an amazing range of restaurants at no extra charge. With each £10 spent on the app that evening, guests will receive a free drink of their choice from the on-site bar.
Dan Warne, Deliveroo's managing director for UK & Ireland, says "Enjoying the outdoors is becoming increasingly difficult in built up areas like London, and given the British summer isn't exactly reliable, we need to be ready at all times! We hope The Deliveroo Garden will encourage Brits to ditch their desks and make the most of their time outside, and order in to eat out."
The Deliveroo Garden will be open 11am to 9.30pm, 8 – 10 June, Hoxton Square.