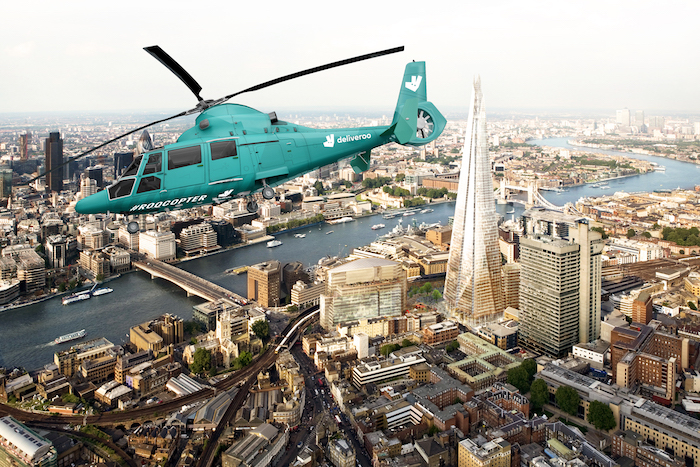 London is to be the first city in the world to experience the new 1,000ft ultimate dining experience as Deliveroo takes its deliveries to the skies.
Partnering with Charter-A helicopters to launch 'Roocopter One' dining, the first trials will lift-off in August 2019, with plans to go international in the coming months.
Brits will have the chance to enjoy breakfast, brunch, lunch, high tea and dinner 1,000ft in the air, double the height of London's highest restaurant, Duck & Waffle (574ft).
Departing from Battersea helipad in London, food is ordered before boarding, during a safety briefing, then delivered-to-door prior to take-off as part of a 20-minute experience.
Diners will take-in London's breath-taking views whilst enjoying take-away food as they fly high above Battersea Power Station, past the Shard and around the O2 before returning to Battersea.
'Roocopter One' will feature popular dishes from Deliveroo partners including Wagamama, Chipotle, Bababoom and Joe Public. Deliveroo has invested hundreds of hours from their operations team into the Roocopter concept with hopes to then roll this out globally following a successful trial in the capital.
With the current trial being offered for free, each Roocopter experience is estimated to cost around £149 per person. Deliveroo is also exploring how the Roocopter One could be used as a delivery vehicle in the future, to reach remote rural areas that are not currently served by the core food delivery offering.
Joe Groves from Deliveroo said: "Deliveroo is committed to delivering the best food no matter your location, whether a local park, office, at home in your garden or 1000ft in the air."
Customers should look up for Roocopter One 9th August in London as it takes to the sky. Those who spot the Roocoper and take a snap with the hashtag, #Roocopter, are in the chance to win £10 Deliveroo credit*.
The experience can be booked via Eventbrite on Monday 29th July from 3:30pm to secure a seat at the highest restaurant in Europe.
Following the trial in London, the brand plans to roll the experience out across multiple cities including Sydney, Hong Kong and Edinburgh over the next two years.