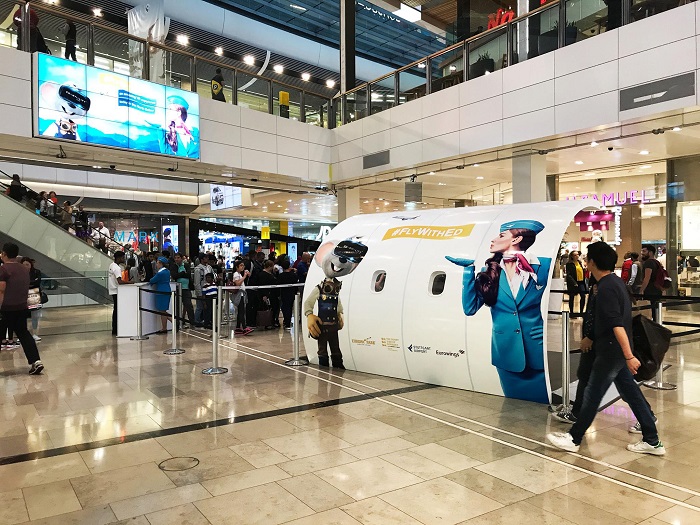 Eurowings, the State Tourist Board Baden-Württemberg, Europa-Park, and Stuttgart Airport have once again partnered to promote their destinations and brands in the UK and have repeatedly appointed London based communications agency, collab-ed, to deliver their UK Summer campaign.
This year's integrated marketing campaign built on the narrative of last year's  #nextstop campaign to once again encourage Londoners to discover the beautiful SouthWest of Germany via convenient Eurowings flights between London and Stuttgart Airport.
In 2016, Ed Euromaus was welcomed by Londoners as they helped him find his buses #nextstop – and this year he returned to take his new friends on a virtual reality journey to his home, Europa-Park, in Baden-Württemberg. The campaign centred around a VR experiential activation in Westfield Stratford City where visitors could check-in to #FlyWithEd on board his special Eurowings plane to the Sunny Side of Germany; touching down in Stuttgart Airport to discover the Black Forest, before taking a rollercoaster ride through Europa-Park – Germany's largest theme park.
Campaign seeding via social media continued the narrative from last years' campaign whilst this year the reactions of visitors were videoed and shared across the campaign channels via the hashtag #FlyWithEd in order to drive social amplification.
Additional OOH consisting of digital OOH throughout Westfield Stratford City and print OOH throughout Stratford International Station further promoted the VR experiential activation.
Visitors also had the opportunity to extend the experience via campaign gifting, with VR cardboards and a free digital download of the Coastiality app (App Store & Google Play) enabling the experience, and brands, to reach directly into the homes of an even wider audience.
"It's been great to be able to build on last year's success and really take this story to the next level", says Nichola Kirkman, Creative Director of collab-ed. "This year's campaign has been tremendously well received by Londoners and is yet another indicator to us that audiences are increasingly receptive to innovative marketing and being reached in more meaningful and powerful ways."
"The response has been fantastic", says Manuela Spröwitz, International Marketing Manager at Eurowings. "The 360° video is a great tool to inspire visitors to travel with Eurowings to Europa-Park and the region. We are really happy to increase the awareness of our flight offers with this innovative and exciting flying experience – on ground!"