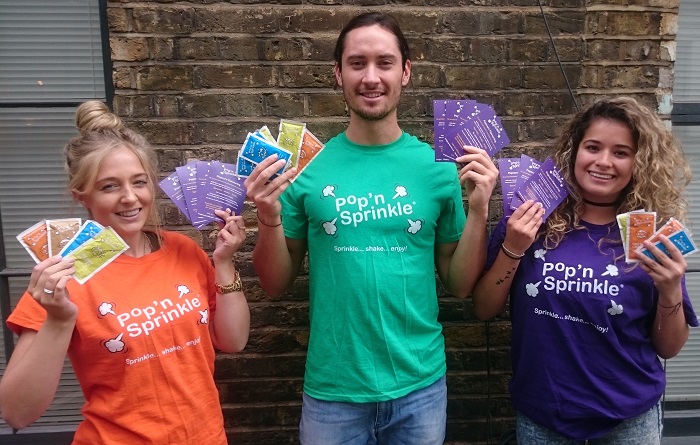 Movie fans across England, Scotland and Ireland can enjoy their favourite film-watching snack with a choice of six different flavours at Vue Cinemas thanks to Pop'n Sprinkle.
Available in salt & vinegar, candy caramel, cheesy onion, sweet chilli, creamy butter and sour cream & chive varieties, Pop'n Sprinkle comes in sachets that can easily be sprinkled over corn. The new campaign, run by StreetPR, gives cinema-goers at selected Vue sites the chance to sample Pop'n Sprinkle for free.
"Pop'n Sprinkle is now available at Vue cinemas up and down the country, and when launching a completely new product, it's vital that people get the chance to try it out for themselves before they buy," said Michael Hamilton Brown, client manager at StreetPR. "Our trained brand ambassadors will introduce cinema audiences to Pop'n Sprinkle, showing just how easy it is to transform their popcorn, letting them try the different varieties and daring them to mix and match flavours to create different taste combinations."
The brainchild of popcorn-loving South Africans Shannon Teague and Michèle Duplessis, Pop'n Sprinkle was created because the pair missed the huge variety of popcorn flavours available in their home country when they moved to the UK.
"We were accustomed to flavoured popcorn from a very young age," says Teague. "We loved the popcorn at cinemas almost more than the actual movie itself. After moving to the UK a few years ago you can imagine our disappointment when we realised there were only two options and we decided to do something about it.
"Our flavours contain no MSG or artificial colouring and are a perfect accompaniment to freshly popped homemade popcorn, standard microwave popcorn and cinema popcorn. They also taste great on fries!"
StreetPR will be taking the Pop'n Sprinkle campaign to selected Vue cinemas in Edinburgh, Dublin and London (Fulham Broadway, Romford, Westfield Stratford and Westfield Shepherds Bush).