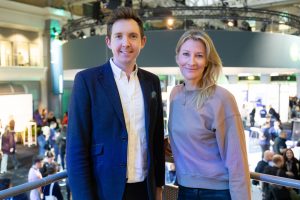 Live event and brand experience experts Event Concept has welcomed a new Marketing Director to its Leadership Team. Abby Hartley will be responsible for setting a strategy that drives profile for Event Concept and embeds future-fit positioning for the brand as it looks to cement its position as the partner of choice for clients seeking exceptional events both in the UK and internationally.
Event Concept is a creative event production agency based in central London, with specialist knowledge in event planning, conceptual design and technical production. The organisation is in a period of exponential growth and has ambitions to optimise and strengthen its commercial position in the events industry over the next five years and beyond.
Abby joins the group from Initials CX, where she was responsible for driving the profile and growth of the agency as well as steering it through multiple brand refreshes. She brings with her a wealth of both B2B and B2C experience.
Abby Hartley, Marketing Director said: "I am excited about joining Event Concept at such a pivotal point in its evolution. The business is poised to galvanise 28 years of event expertise and I am looking forward to bringing this to market and helping the brand fulfil its potential.  The depth and breadth of expertise under the Event Concept roof is exceptional, and I am thrilled to be joining such highly driven team."
Adam Stanley, Managing Director of Event Concept, added: "Event Concept is in an exciting period of growth as we continue to deliver major projects both in the UK and internationally. Abby is a really great hire for the agency, and I am thrilled to have her on-board to help drive our brand position and showcase the amazing work we deliver."