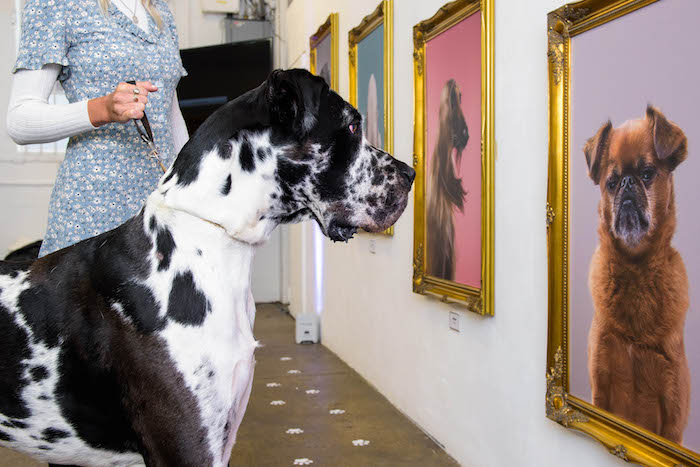 Facebook Watch opened London's first National Paw-trait Gallery, designed especially for  four-legged-friends, with portraits hung at both human and dog eye level, commemorating famous, inspirational and talented dogs from around the globe – a cultural day-out for man's best friend.
The exhibition, which marks the launch of Facebook Watch's bid to find the 'World's Most Amazing Dog', was free and open to the public and their pooches from the 7th until 9th February at Protein Gallery in Shoreditch. The gallery featured photography of iconic dogs past and present, featuring the likes of 'Laika', the first dog sent into space, 'Lassie', Blue Peter's original dog 'Petra' and Queen Elizabeth II's Corgis.
Joining them in the hall of fame were inspiring portraits of some of the nation's dogs with disabilities. Working with disabled animal charity, Broken Biscuits, Facebook Watch commissioned renowned animal photographer Gerrard Gethings to shoot a series of portrait photographs of disabled dogs, which featured exclusively in the gallery.
Some of the breeds included in the gallery, such as the Poodle and Daschund, feature on the top ten 'most mentioned' list of dog breeds in the UK, as revealed by Facebook:
1. Labrador
2. Siberian Husky
3. Daschund
4. Cocker Spaniel
5. Golden Retriever
6. Beagle
7. Jack Russell
8. French Bulldog
9. Cockapoo
10. Poodle
Guests could also see portraits of the dog influencers racking-up followers on social media, as well as a section on rare and interesting breeds. There was a dog photobooth so any cultured canines that came down to the gallery can take away a snap of their own.
"World's Most Amazing Dog" is a new interactive global competition series that celebrates entertaining dogs and their owners. UK Facebook users can submit an "audition" video of their pet, and then it's up to the Facebook community to vote and decide who will win $100,000 (USD) and the title of World's Most Amazing Dog. Auditions are open through the show page on mobile devices until 20th February, with the top dogs then reaching a semi-final, judged by celebrities George Lopez and Lisa Vanderpump, in a VOD format hosted by Preacher Lawson. 
There was an interactive space in the gallery where owners could capture videos of their amazing dogs and submit their entry into the competition. For every submission made in the UK, Facebook will donate $1 to Battersea Dogs and Cats Home.
Patrick Walker, Director, Facebook Watch said, '''World's Most Amazing Dog', is a fantastic example of the interactive, community-driven fun you can have with video on Facebook Watch – allowing users to upload and vote on clips of some of the globe's inspirational, talented or unique pups. We're thrilled to be hosting a similar participatory experience especially for our pets in the form National Paw-trait Gallery – honoring the many dogs that drive so much conversation and joy on the platform'.