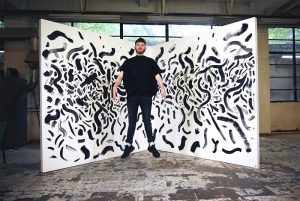 H&M has appointed The Flash Pack to create an immersive art, music and 3D photographic experience for this year's Field Day. The interactive experience – called The Electric Jungle – will be open on both days of the London festival (11th and 12th June).
The activation incorporates bold patterns, striking art features and a light installation with subtle H&M/Field Day branding. The experience has been created to encourage exploration, interaction and sharable content, not only generated from The Flash Pack's 3D camera rig, but from every facet of the innovative experience.
The installation is design led and visually distinctive – with street artist and beatboxer Harry Yeff AKA Reeps One, commissioned to create the interior's graphic pattern and curate the soundtrack for the experience.
The focal point of the space will be the styled 3D photo experience. Once the festival goer's photoshoot is complete, they will head to a social upload area, which enables quick and easy sharing from 27 inch touch screens.
Tyson Benton, the creative director of The Flash Pack says: "H&M is a longstanding client and we are working directly with them to create the whole experience. The interior will be a canopy of foliage echoing the colours and botanical patterns featured in H&M's Spring/Summer 2016 Divided Collection. Reeps One's involvement is very exciting. We felt his creative influence embodied the H&M collection, making him the perfect fit for this project. He is an amazing talent. The pattern for the floor and backdrop of the space are taken from art he created in our studios only last week."
H&M, Reeps One and The Flash Pack will be releasing a series of short videos in the run up to Field Day and a feature length video documenting the whole project afterwards.