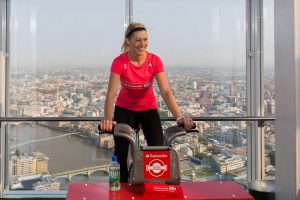 Santander Cycles launched the inaugural "Spin Up" event at The Shard with the Highest Spinning Class in Europe.
Santander Cycles is encouraging the public to experience something new at iconic locations across London's skyline, whilst encouraging trials of the cycle hire scheme in their own time. In July and August, these spinning class experiences will take place at the following times and locations:
Tuesday 28 and Wednesday 29 June – The Shard
Wednesday 20 July – Tower Bridge Glass Floor
Thursday 4 August – The Roof Gardens, Kensington
'Spin Up' classes will also take place at Transported by Design at the Regent Street Festival on 3 July and More London Festival at The Scoop (between London Bridge and Tower Bridge) from 17-20 August.
Keith Moor, chief marketing officer of Santander said: "Spin Up is about having fun on a Santander Cycle at the same time as seeing London in a different light. It gives everyone an opportunity to gain confidence and to familiarise themselves with the Cycles in a relaxed environment These spinning classes are a great example of the excitement we have brought to the scheme so far – giving people the chance to do things they simply could not experience in any other way."
Paul Cowperthwaite, TfL's general manager of Santander Cycles, said: "It's great to have unusual and fun ways of helping peopl
e become familiar with our cycle hire bikes and scheme, and the Spin Up classes mean you can get a bit of exercise in at the same time! Working with Santander is helping us to grow and develop the scheme, making it easier and more fun to hire a bike for commuting or leisure."
Slice are behind the activation and  Sidhu & Simon are  handling the PR