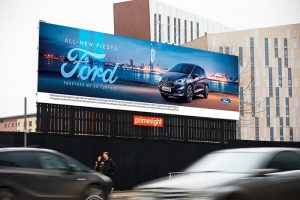 Ford is the first brand to take advantage of a combined offering between Primesight and RadiumOne that integrates out-of-home and mobile advertising so that advertisers can target people based on both their location and their content sharing behaviour.
Ford is promoting its new Fiesta.  Whenever the target audience comes within a certain distance of a Primesight billboard, RadiumOne serves a mobile display ad to those who've shared or engaged with content online relevant to Ford's campaign.
In addition, combining RadiumOne's sharing data with data from Route – the OOH industry audience measurement standard – allows the campaign's reach to be extended beyond people in the vicinity of the poster.
Ford's media manager, Rachel Moore, said, "We were drawn to this opportunity with Primesight and RadiumOne as it allows us to combine our OOH and mobile campaigns by including an additional layer of audience targeting to facilitate conversions."
"It's about fusing geo-location data from mobile and OOH planning tools with sharing data to find highly relevant audience profiles for Ford," explains Craig Tuck, RadiumOne's UK MD in more detail. "It extends the impact of the OOH plan by targeting people we know to be very interested in the product – in this case, the all-new Ford Fiesta – whilst near Primesight's posters."
Matt Teeman Primesight's MD adds, "This Primesight and RadiumOne collaboration is an exciting opportunity for advertisers as RadiumOne's unique take on audiences combined with our range of OOH locations provides a very powerful offering that makes it easier for brands to magnify their audience reach."
Tom Marsden, from Ford's media agency Mindshare said, "We're always looking for new and innovative ways to drive efficiencies and performance for Ford through our media plan. Not only did this make sense from a campaign point of view but in terms of implementation and collaboration we needed something which was quick and easy to activate avoiding too many media partners and high-levels of creative involvement."