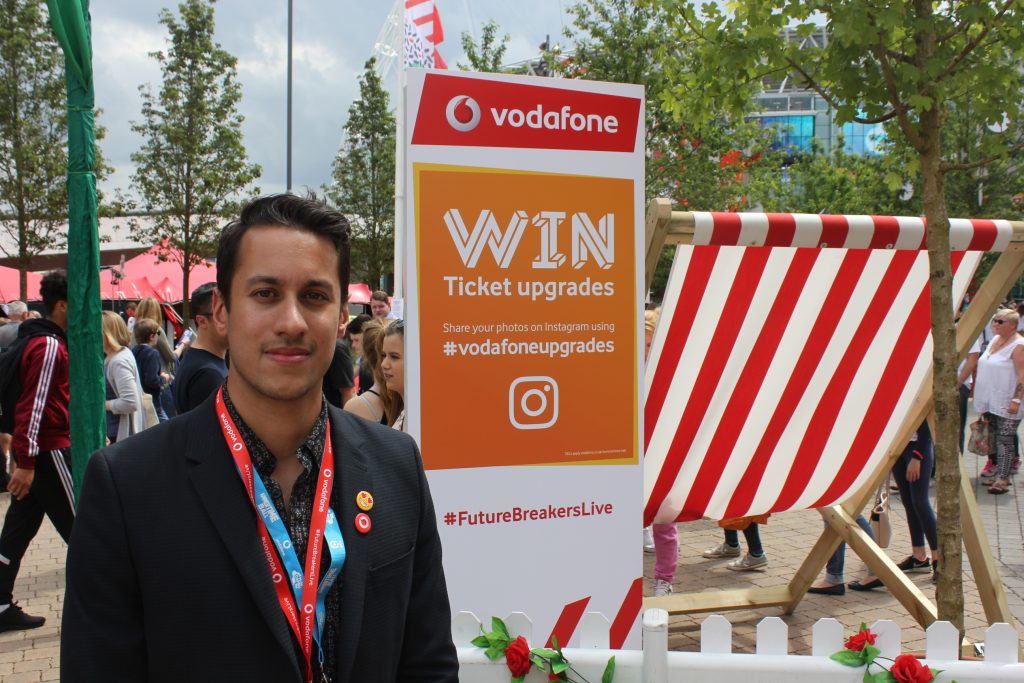 FreemanXP helped Vodafone connect with music fans as they arrived at the Capital FM's Summertime Ball.
FreemanXP was brought in by Vodafone to help it to highlight its Future Breakers talent competition and give event goers reasons to arrive at the sell-out Wembley Stadium event early.
A mini festival atmosphere was created by FreemanXP on the way to the stadium. A Secret Garden welcomed Vodafone customers and their friends to a VIP area on one side of the entry road whilst  FreemanXP also set up Beauty Booths to entertain early arrivals and hosted emerging pop talent on the Breakers stage.
The Secret Garden was high on family appeal with sparkly makeup artists, hula hoop and performance entertainers from Bearded Kitten, special ice cream recipes, oversize deckchairs, fresh cooked pizza slices and goody bags on offer.
The walk to the stadium also included Vodafone opportunities to take and tweet photos for prizes including ticket upgrades. Promotional Vodafone staff from agency Hel's Angels encouraged participation.
The feel good factor was supported by new Vodafone marketing collateral, flags and signage designed by FreemanXP. Daniel Underwood (pictured), brand manager partnerships and sponsorships at Vodafone enthused about the activation telling fieldmarketing.com that the event was a chance for the brand to connect with music fans and customers, some of whom are using their first mobile.
At the Ball itself, Future Breaker winner Ryan Lawrie played the main stage as the 80,000 ticket holders arrived – the event's official opening act was Little Mix.
The evening saw performances from a host of multi-million selling artists including Zayn, Tinie Tempah, Will.i.am, Flo Rida, Ariana Grande, and Jess Glynne.
A Summertime Ball review together with interviews with Daniel Underwood and Simon Boniface, creative director, FreemanXP will appear in a look back at Summer 2016 in FMBE Magazine in October.