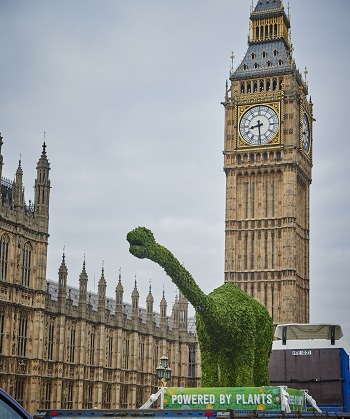 On Monday March 21st Florasaurus – a giant diplodocus made from plants – toured the streets of London to help reengage children with where their food comes from. The stunt from Flora demonstrates how many of the world's biggest and most magnificent creatures were powered by plants.
As research suggests British children don't eat enough vegetables because they think they're boring, Flora has pledged to reconnect children and families with where their food comes from and the power of a plant based diet. The brand is investing a landmark £12.5million in a programme of activities that will be rolled out over the course of the year.
The 13-meter-long Florasaurus navigated it's way  through London, taking in the Houses of Parliament, Tower Bridge and Canary Wharf, before being available for families to visit over the Easter school holidays in London and Manchester.
James Brennan, marketing manager at Unilever, comments: "Today we're showing our commitment to helping kids understand where food comes from, as well as the benefit of plant-based foods. This campaign forms part of our quest to make a positive impact through reconnecting children with the food they eat. "
Lucy Jones, dietician and TV presenter, said: "Not only are plant based diets good for you but they are good for the planet as well, meaning Flora can provide a healthy and sustainable addition to any meal. This Flora campaign will help to reconnect children with their food and therefore help to give them a brighter and healthier future."
Florasaurus will reside at Westfield Stratford, London (Friday March 25th- Monday April 4th) and Trafford Centre, Manchester (Thursday 7th – Sunday 10th April). The free interactive experience will include photos opportunities with the Florasaurus, competitions and activities made with the help from the Eden Project activity boards
 Agency Golin is handling the press office, PR strategy and content creation