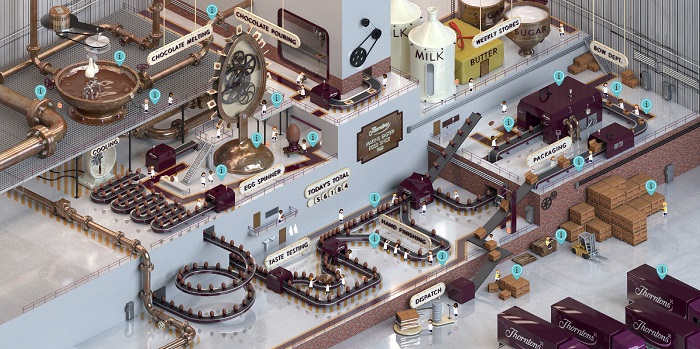 Thorntons has launched an interactive chocolate factory to engage consumers during the busy Easter season.
The campaign, which uses CGI animation techniques to demonstrate the inner workings of the chocolate factory, aims to give consumers a taste of how Thorntons lovingly crafts each and every one of its Easter eggs.
"The Ultimate Guide to Easter Eggs" is the brand's biggest investment yet in content and experiential activity.
Created in response to customer intrigue in the chocolate factory, the campaign emphasises the brand's heritage, focusing in particular on the egg-spinning process (Thorntons eggs are spun as one whole, not two halves) and includes bitesize facts about the factory.
The gamification element adds to the experience with consumers challenged to find five Easter eggs within the factory. One winner of the Easter egg hunt will be selected at random on 27th March 2016 and enjoy a real-life tour of the Thorntons factory as well as a year's supply of chocolate.
To celebrate the launch of the interactive chocolate factory, Thorntons invited a selection of influential bloggers to experience the real-life chocolate factory as well as have a go at personalising their own Easter eggs and crafting their own chocolates. The event gained significant traction on social media including Twitter and Instagram.
John Alexander Rowley, search manager at Thorntons, said: "Easter is the second biggest chocolate season of the year and we are delighted to launch this campaign to drive search visibility, increase online brand equity and provide a great overall digital experience to our customers."
Thorntons worked with Cogent Elliott and CGI specialists Junction Eleven to create and develop the campaign. Thorntons also published an article on their blog for a behind the scenes look at how the CGI chocolate factory was made.
https://blog.thorntons.co.uk/how-we-made-our-interactive-chocolate-factory