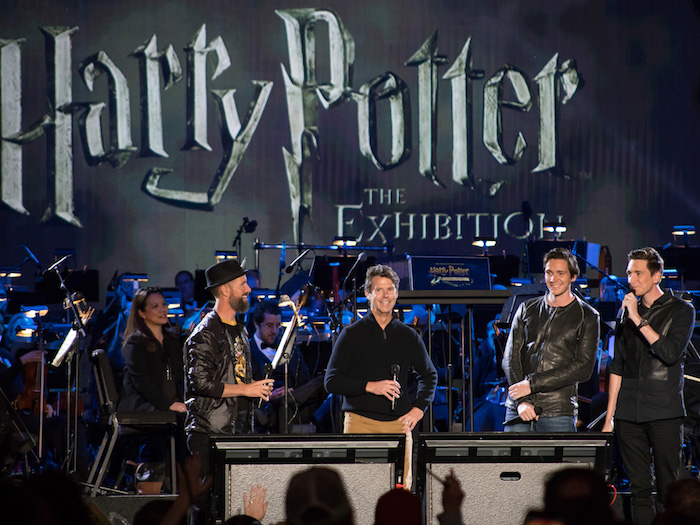 This summer, Harry Potter fans in Italy will have the opportunity to get a closer look at thousands of props, costumes and creatures from the Harry Potter films when Harry Potter: The Exhibition comes to Fabbrica del Vapore. Since its world premiere in Chicago, the exhibition has received more than 4 million visitors and has included stops in Boston, Toronto, Seattle, New York, Sydney, Singapore, Tokyo, Paris, Shanghai, Brussels and Madrid.
James and Oliver Phelps, who played Fred and George Weasley in the Harry Potter films, announced Milan as the exhibition's eighteenth stop to thousands of excited fans attending the 5th annual A Celebration of Harry Potter at Universal Orlando Resort during events on Friday, January 26th. Milan Deputy Mayor Anna Scavuzzo attended the celebration as a representative for the city.
In partnership with Warner Bros. Consumer Products, GES Events created the 1,600-square-meter experiential exhibition, where visitors can enjoy displays inspired by the Harry Potter film sets and see the craftsmanship behind authentic costumes, props and creatures from the films. D'Alessandro e Galli, Sold Out and Encore Productions are partnering with GES to present the exhibition in Milan.
Upon entering, guests are greeted by an exhibit host who sorts several fans into their favourite Hogwarts houses, then leads them inside the exhibition where their journey into scenes from the Harry Potter films begins. The exhibition features settings from the films' locations—including the Gryffindor common room and dormitory; classrooms like Potions and Herbology; and the Forbidden Forest—which are filled with thousands of authentic props, costumes, and creatures used in the filming of the series. In addition, there are several interactive elements. Guests can enter the Quidditch area and toss a Quaffle ball, pull their own Mandrake in the Herbology classroom vignette, and tour a re-creation of Hagrid's hut and sit in his giant-sized armchair.
The exhibition visits Milan for a limited time only.