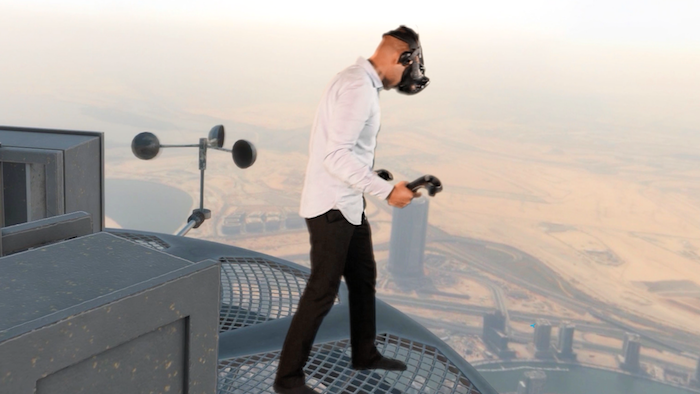 DigiComm of Dubai have tasked technology innovation agency, Inition, with creating a crowd-pleasing virtual reality (VR) experience that takes users on a thrill-packed, height-themed spy mission at Burj Khalifa – the world's tallest structure and UAE's must-visit tourist attraction.
The interactive experience captures key elements from the Burj Khalifa experience in an exhilarating adventure that transforms VR-headset wearing users into mission operatives who need to foil an impending cyber attack by scaling the Burj Khalifa's immense 828-metres to intercept an overhead satellite. The adventure includes many surprises along the way, including a base-jump from the building's summit.
Rich in immersive, visual and audio content, the experience is designed to challenge fears whilst letting users see Dubai's most stunning views from perspectives that wouldn't otherwise be possible. Emotionally-charged and with a cinematic storyline, the experience uses multi-sensory technology and effects – like physical 4D cues, 360 spatial sound and simulated wind – to create a deeper level of immersion.
Called Mission 828 in tribute to the Burj Khalifa's height, the experience was built for HTC Vive using the Unity game engine. Designed to be as realistic and visceral as possible, hi-end CG elements were overlaid within real world footage to maximise quality and visual accuracy, with 360 scenes being captured at great height courtesy of drones.
Abdul Bakhrani, CEO of DigiComm commented: "Inition is a world leader in creating unforgettable VR experiences that have a commercial edge. So they were the natural choice for further enhancing the Burj Khalifa experience with an electrifying VR adventure that will stay in users' minds long after they have left the building."
Inition's CEO, Adrian Leu, added: "The world's top tourist attractions are now often securing their pole positions by adding value through complimentary immersive experiences. In fact, we recently created a vertigo-inducing VR experience for The Shard, which gave us an opportunity to experiment with convincing users' brains they're at immense height without making them feel nauseous.
"This learning was invaluable when it came to creating the project's all-important realism. But already being well-versed in creating VR height experiences didn't mean there weren't other challenges… such as flying drones to capture 360/3D images at altitude and combining 360 footage with CGI in a seamless way."