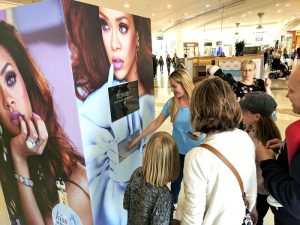 To support the launch of Rihanna's new fragrance, Riri Kiss, experiential agency iMP were commissioned to design, build and tour The Kiss-O-Meter.
iMP designed the unique experiential concept, created the software and built the Kiss-O-Meter, which embarked on a nationwide experiential tour.
The Kiss-O-Meter featured a touchscreen which engaged with shoppers and asked them one of  25 questions about Rihanna. If the players answered the question correctly, the Kiss-O-Meter dispensed a sample of the fragrance and a £10 voucher for The Perfume Shop.
During the tour, which visited shopping centres including Bluewater, same day sales were recorded at every site visited. In total, over 20,000 free samples were handed out as well as £200,000 worth of £10 vouchers.
David Gibbons, managing director, iMP comments: "This is our tenth major build and activation of the year already. More brands are coming to us with experiential requirements than ever before – the increase in enquiries has more than tripled – and the Kiss-O-Meter is a perfect example."
Find out more about iMP in our Online Directory