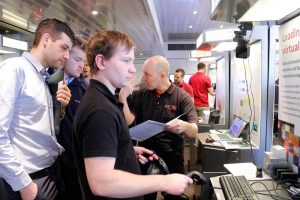 Brand roadshow specialist, Mobile Promotions helped Dream Marketing hit the road with the use of its expandable exhibition trailer, creating a 16-day pan-European automotive roadshow.
Extending Mobile Promotions' eight-year relationship with Dream Marketing's managing director John Aldridge and his innovative mobile exhibition concept, this March saw the event specialists'  expandable trailer act as a mobile trade show for 21 automotive suppliers.  Each exhibitor occupied an individually branded exhibition booth inside the trailer, showcasing their technologies, products and services to their target market of engineers and buyers.
Visiting 11 different automotive production centres across 11 European cities, Mobile Promotions managed the logistics for the tour's  route, ensuring the exhibitors promoted their automotive offering directly inside potential customers' premises boasting high footfall including Aston Martin Lagonda, Banbury's Prodrive, Ford Motor Company in Essex, Belgium's Toyota Motor Europe, Audi in Russelsheim and Continental Automotive in Regensberg. Over the course of the two-week roadshow covering approximately 2,500 miles, the  tour attracted a receptive industry audience of 1,300 attendees and generated over 1,000 enquiries for the exhibitors.
Utilising in-house services, Mobile Promotions created new branding for the automotive roadshow and ensured the exhibition trailer was fully brand-wrapped for maximum visual impact during the tour.
John Aldridge, managing director of Dream Marketing commented: "Having worked with Mobile Promotions for the last 8 years we continue to enjoy a strong relationship whereby they understand my needs, requirements and expectations for my events and once again they did not fail to deliver. Experienced roadshow staff are worth their weight in gold and I know I am always in safe hands with the team at Mobile Promotions."
Carla Harry, logistics specialist at Mobile Promotions, added: "The exhibition takes place in Mobile Promotions' expandable R20 trailer which is 13.6m long and 2.5m wide when in transit, but once at an event expands to give approximately 70 sq metres of floor space – the largest internal space of any such trailer in the UK.  The trailer's unique design only requires a single person to operate, with set up being complete within less than one hour due to the in-built hydraulic systems that effectively manoeuvre the trailer."