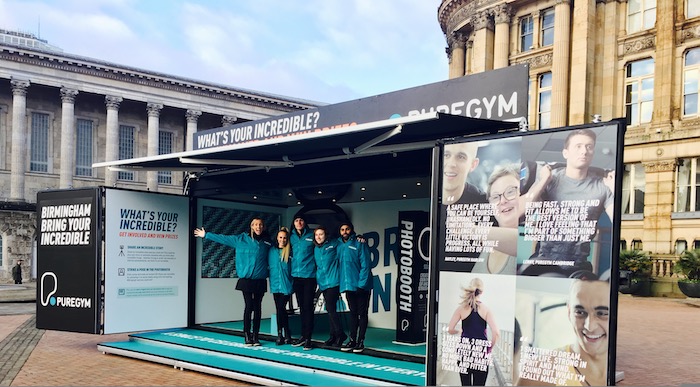 iMP has been enlisted by PureGym to drive awareness of new gym openings up and down the country with an immersive, experiential roadshow.
Running from January to October, the experiential activity will support over 35 new gym openings across the nation.
Agency iMP has created a bespoke immersive roadshow which features 22 national experiential events for The Great Run Series, for which PureGym is the headline sponsor, and five roadshow shipping container events as well as supporting 35+ gym openings.
iMP is behind all aspects of the campaign including design of events, production, logistics, bookings, staffing, training and running the immersive PureGym shipping container activity.
The immersive shipping container will play host to a hive of experiential activity including a GIF booth complete with props, a VoxPop area, where guests can nominate someone for a special award and an interactive motivational magnet wall where participants can take home one of over 600 magnets.
The roadshow will be visiting Birmingham, London, Edinburgh, Manchester and Leeds to coincide with the new 'Bring your Incredible' TV campaign.
David Gibbons, Director, iMP comments: "The team at PureGym wanted a highly engaging and physically impactful brand experience to capitalise on and reflect the rapid expansion of the brand. They've allowed us the flexibility to be progressively creative with the experiential tour, local launches and national events and really run with this year – long project, it's a big year for all of us."