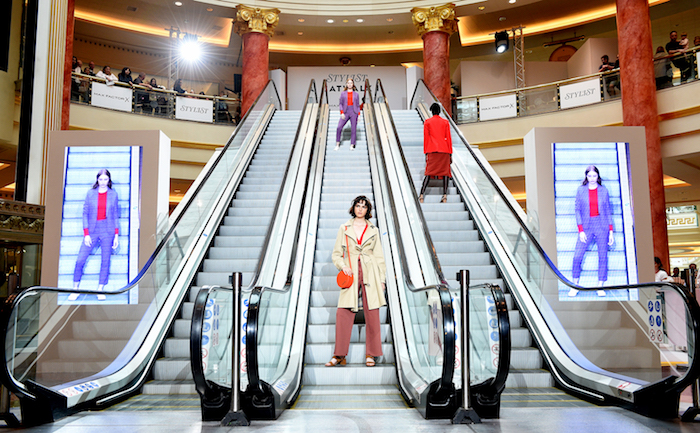 intu, owner of some of the best and well-known shopping destinations in the UK, has announced the return of Stylist Live to intu Trafford Centre in Manchester.  The large-scale consumer event held in conjunction with The Stylist Group is anticipated to attract hundreds of thousands of shoppers from across the north west on Saturday 28 and Sunday 29 September.
Building on the success of the 2018 event, Stylist-curated fashion shows will again turn the central escalators into a moving catwalk, showcasing shoppable trends whilst experiential and retail pop-ups will bring brands to life. This year's offerings include exclusive discounts, free gifts, personal style consultations, in-store pampering sessions, and refreshments from brands like River Island, John Lewis, Ted Baker, Oasis and Warehouse.
Last year's event, which was the first ever Stylist Live held outside of London, attracted 200,000 shoppers over two days to intu Trafford Centre, representing a five per cent increase in footfall.
The continued growth of Stylist Live in London is testament to the demand for such an event from Stylist's readers, and the subsequent launch in Manchester gives The Stylist Group the opportunity to meet the demand from its regional readers in the same way.  Last year, the company held its fourth Stylist Live at Olympia London, with thousands of people across three days attending inspiring masterclasses, catwalk shows, beauty treatments and exclusive shopping experiences curated with 200 brands including Google, Remington, Pixi, Benefit and Kikki.K.
Roger Binks, customer experience director at intu, said: "As one of the most iconic retail and leisure destinations in the UK, intu Trafford Centre is the perfect location for Stylist Live and we're delighted to welcome the event back.
"Last year, our customers reported excellent sales during the event, some almost doubled their expected targets, and it gave the style-conscious visitors to intu Trafford Centre access to exclusive brand and retail experiences. We're excited to do it all again, with new brands and partners on board for the 2019 event.
He continued: "intu is well-placed to support brands across the UK. Through exclusive events, like Stylist Live, we're offering unique opportunities that drive footfall and dwell times, helping our customers flourish and giving our visitors memorable experiences."
Sophie Robinson, chief marketing officer at The Stylist Group said: "Following the huge success of Stylist Live at intu Trafford Centre last year, we are really excited to be coming back. Stylist Live has become a sell-out event in London and our collaboration with intu gives so many more people the opportunity to join us."
The event, sponsored by NatWest and Instax, will be supported by a joint marketing campaign to promote and drive footfall to the show, include print, radio, online, OOH and social media pushes, to attract audiences from across the north west region.