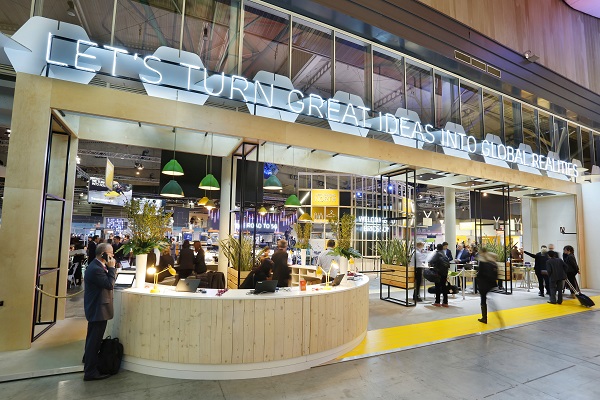 Ericsson's presence at Mobile World Congress (MWC) has been designed to bring the brand's vision of the Networked Society to life and is driven by this year's overarching theme: 'Let's turn great ideas into global realities.'
Jack Morton Worldwide, the global brand experience agency, is Ericsson's strategic and creative partner in bringing Ericsson's experience to life at MWC for the ninth consecutive year.  MWC, the world's premiere mobile industry gathering, takes place from 22nd to the 25th February at Fira Gran Via, Barcelona.
The vision of the Networked Society is one of a connected world where people, business and society are empowered by this connectivity to reach their full potential and create a more sustainable future. Information and Communication Technology (ICT) is a key driving force for this transformation, and the essential infrastructure it provides could help resolve some of the greatest challenges facing our planet. 40% of the world's mobile traffic flows through Ericsson's networks, so as an ICT leader, Ericsson has the technologies, services and expertise to help enable this transformative change.
The experience is designed to convey this message and to reach out to and inspire operators, developers, industries and governments to collaborate in order to realise the potential of this vision. In total, the experience occupies 6000m2, making it one of the largest dedicated spaces at MWC. It includes two key areas: the first exploring Ericsson's thought leadership and innovative work within the Networked Society and the second providing an in-depth experience of Ericsson's capabilities within the context of customers' and partners' key areas of operation.  The space also includes a keynote presentation area, lounge spaces, cafes, multisensory meeting rooms, and a social space for 3,000 people.
Cecilia Dahlström, head of event management, Ericsson said, "Mobile World Congress is an important sales and marketing platform for Ericsson. This year we wanted our guests to join us in turning great ideas into global realities, inspiring our customers and partners with our global expertise and vision of the future. Together with our partner, Jack Morton, we have built an experience that is truly unique and valuable for our key audiences."
The award-winning agency has partnered with Ericsson since 2007, to create a coherent set of brand experiences that enable Ericsson to share and engage stakeholders with its vision of the Networked Society.
Mike Kunheim, managing director, Jack Morton Worldwide, commented, "Ericsson is not only an industry leader, but a company driven by a vision. Realising that vision is vital for all our futures, so it's truly inspirational to work in partnership with such a forward-thinking organisation."