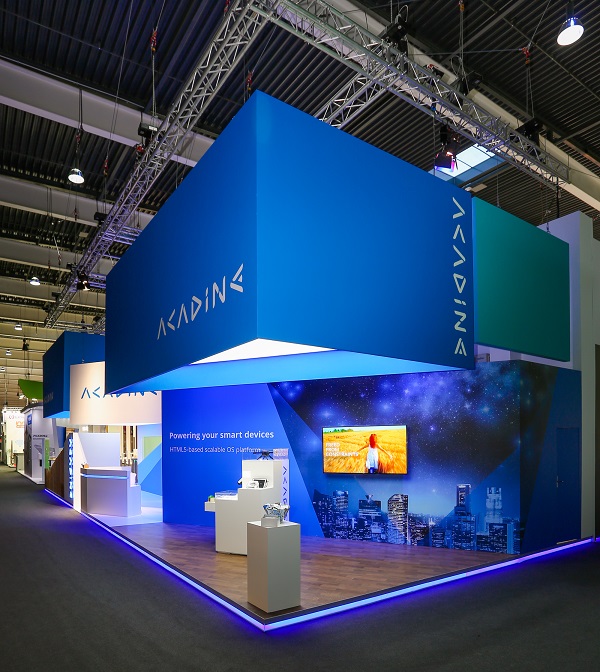 Newly emerged start-up, Acadine Technologies, an independent provider of operating systems software / service platforms for a new generation of smart devices, has just announced the release of H5OS and is showcasing it this week at Mobile World Congress (MWC) in Barcelona. The event, the world's premiere mobile industry gathering, takes place from 22nd to the 25th February at Fira Gran Via, Barcelona.
Jack Morton Worldwide, the global brand experience agency, has been appointed through a competitive pitch process to create ACADINE's experience at MWC. The experience allows visitors to learn first-hand how the new operating system, H5OS, supports a variety of smart devices with its dynamic and scalable design.
H5OS is a scalable HTML5-based and commercially ready Operating System (OS) created for mobile devices and the IoT. Based on open web standards, H5OS facilitates a cross-platform usability, allowing smart devices to reach their full potential through seamless communication and connectivity across different hardware platforms. By leveraging HTML5 technology, H5OS is more versatile, adaptable and memory efficient than other existing mobile operating systems. As a result, large ranges of smart device makers can readily adopt H5OS on their products – including sophisticated mobile devices and lightweight devices such as smart monitors.
"Acadine's H5OS is a horizontal platform that unifies core technologies and streamlines the IoT ecosystem for smart devices from fields such as medical, manufacturing, smart home, automotive and retail. H5OS is a commercially ready, independent OS, designed for the next decades of innovation. We are excited to introduce H5OS at MWC, the leading event of the industry." said Jane Hsu, Marketing Director of Acadine Technologies.
Jack Morton Worldwide is partnering with Acadine Technologies for the first time, as the technology company makes its debut appearance at the annual industry event. Mike Kunheim, managing director, Jack Morton Worldwide said: "we are thrilled to be sharing this exciting time with Acadine, and to help this hotly-tipped challenger brand to make a splash at this, the key industry event."