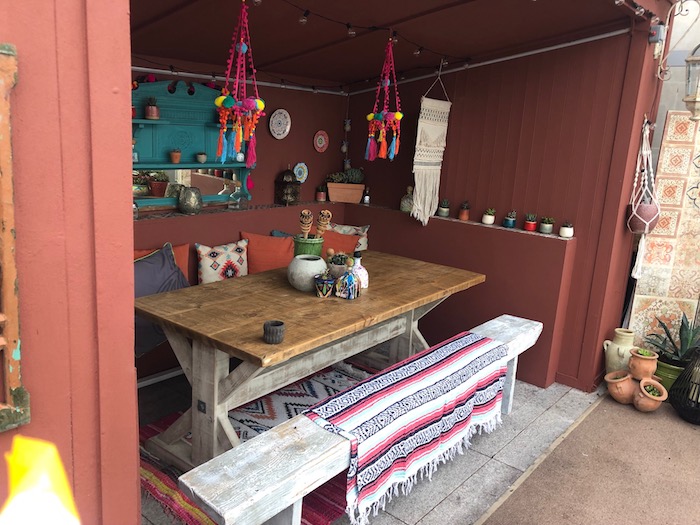 Radio Rooftop, ME London Hotel's bar has been transformed by Jackanory into Spirit of Summer terraces in collaboration with Patrón Tequila and Bombay Sapphire. Located on the 10thfloor, each terrace has been transformed into an exclusive, immersive space perfect for enjoying the warmer weather and the unique views across the River Thames. Each side – one a Mexican Hacienda and the other a Botanical Garden – represents these brands; their heritages translated through design and innovative food and drink menus.
The Patrón Mexican Hacienda terrace features a terracotta-coloured cabana decorated with typical Mexican splashes of colour, tropical foliage and cacti. A selection of summer tequila cocktails and margaritas with a difference add to the Mexican summer feeling.
The Bombay Botanical Garden terrace houses two azure garden sheds decked out with hanging baskets, blankets, watering cans and garden furniture creating an English garden in the sky. A selection of crisp, refreshing drinks filled with fruits and herbs offer a different take on the classic Gin & Tonic, using Bombay Sapphire English Estate.
Harriet Cuming, London activation manager of Bacardi, Bombay Sapphire and Grey Goose,said "We wanted to celebrate the heritages of Patrón Tequila and Bombay Sapphire in partnership with Radio Rooftop and Jackanory have helped us create two themed terraces that do just that. Visitors to each terrace will be immersed in a Mexican hacienda or an English garden, adding to their overall drinking experience."
Lucy Gillions, co-founder of Jackanory said"We believe that a drinking experience shouldn't just be about taste. It should be so much more than that. We want drinkers to enjoy a multi-sensory, immersive experience that will surprise and delight on all levels. We're thrilled to be working with these world-renowned drinks brands and the ME Hotel to create more immersive drinking experiences for visitors to Radio Rooftop."
The Spirit of Summer terraces will operate throughout the summer until late October at Radio Rooftop, ME London, 336 – 337 Strand, London WC2R 1HA.