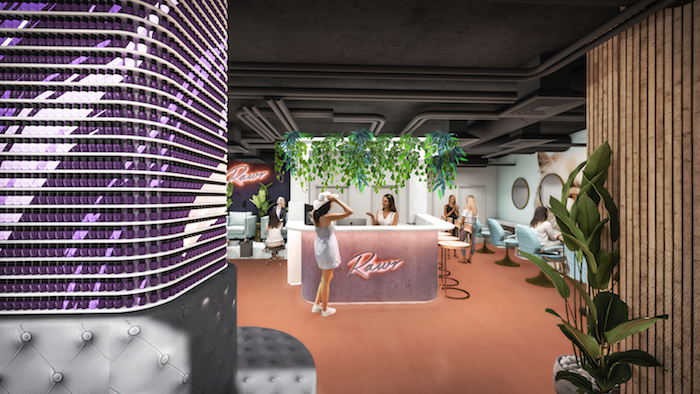 The announcement of the rebrand RAWR comes ahead of brand launch and flagship store opening on 28th November.
18 November, 2019: RAWR, formerly Lashious Beauty, today announces its complete rebrand and relaunch with global experience company Imagination, as part of a significant expansion plan.
RAWR tasked Imagination with conducting a full brand overhaul, including audience definition, strategic positioning, new brand name and full asset design along with retail concept design.
The new brand has been framed to meet the needs of the money-savvy urban consumer, aiming to fit seamlessly into busy lives, reflecting the uniqueness and diversity of a group which expresses themselves through beauty – leading to Imagination's strategic positioning of the brand – 'bold beauty as unique as you are'.
The agency created the new logo and creative assets to work in harmony with RAWR's nail polish patterns and centred around human, gestural interactions. Imagination also developed new typographic treatments, photography style and iconography suite – alongside a custom suite of patterns to work with a fresh, flexible colour palette.
The rebrand was then extended to a new retail concept, with Imagination designing a new flagship store set to open in Rathbone Place, London, before rolling out into a large number of locations nationwide alongside selected Primark stores as part of an ongoing partnership.
The new flagship salon, opening on 28th November, has been designed to capture a vibrant and bold expression of the energetic life of the urban jungle.
The interior surfaces are a canvas of expression – artistic wallpapers setting an immersive retail backdrop to the store, themed jungle-inspired features with a coloured epoxy resin feature floor inspired by the vibrant shades of nail varnish.
The new RAWR website will be launched on the 20th of November.
Chloe Guest, head of marketing at RAWR said, "Imagination is a perfect partner to completely reinvent the brand and create the bold, memorable RAWR as we prepare for significant expansion in coming months to a newly defined market. Their creative flair and innate understanding of the retail sector have been self-evident and we're delighted with what they've created for us."
Richard Hannah, client services director at Imagination, said, "This is a really exciting new brand with huge potential to grow in the UK and international beauty markets. We were keen to push the boundaries and create a standout identity that reflected the company's belief in personal empowerment. Working with the RAWR team was a really positive, collaborative experience throughout – look out for an attitude-packed RAWR salon near you soon!"