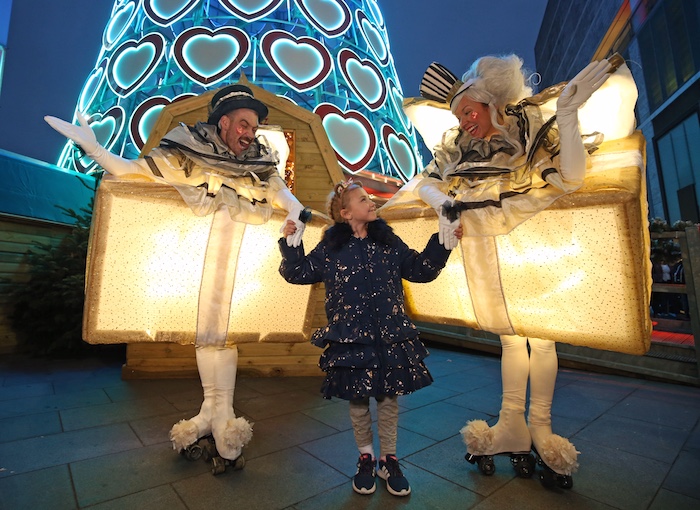 Thousands of visitors watched the illumination of a specially-commissioned light spectacular in Liverpool One's Chavasse Park as the finale of a city centre-wide celebration on November 16 to officially begin Christmas in Liverpool.
Developed by local artist, Mark Robinson, whose previous works have been displayed at Glastonbury Festival, the Polaris: Dare to Dream light installation was designed to represent the people, music, art, trade, education and sport that give Liverpool such rich culture.  The spectacle was created using 96-colour changing cubes, each weighing 65 kilograms and containing computer-controlled LED lights and will be illuminated 24 hours a day until 9 January.
The Polaris; Dare to Dream was joined by a number of special events and performances across Liverpool One for the launch, including:
Liverpool One's 30-metre tall Christmas tree returned on Paradise Street, complete with its alpine-inspired venue, Bar Hutte, located beneath it offering live music and festive cocktails
A festive street party featuring a piano-playing Santa, walkabout festive character performances, and pop-up pantomime previews performed by the Unity Theatre, The Epstein, and ECHO Arena made its way through the city centre
A 250-strong choir, PopVox, gathered on Sugar House steps near John Lewis to entertain visitors, alongside a debut festive themed photo both inside a taxi
For Christmas 2018, Liverpool One has formed a partnership with the NSPCC to support their Light for Every Childhood Christmas appeal.  NSPCC Christmas tree decorations, pin badges and bracelets are on sale at the Liverpool One Information Centre in Wall Street and selected stores across the festive season.  Bar Hutte is donating 10p from every soft drink sold during the festive period.
Commenting on the Christmas enlivenment programme, Alison Clegg, director, Asset Management, Grosvenor Europe, said: "Liverpool One has a reputation for delivering great events and entertainment for our visitors.  This Christmas epitomised that thanks to our largest-ever festive programme, driving footfall and creating experiences visitors can share.
"Such commitment to outstanding experiences and an exceptional retail and leisure line-up is what makes Liverpool One an internationally renowned and in-demand destination."
Liverpool culture director, Claire McColgan, added: "The fact that Liverpool One has chosen to commission such a bold original work to mark their Christmas celebrations shows they embrace love of culture and creative ambition as keenly as anyone in the city.  Liverpool ONE always delivers a brilliant atmosphere at Christmas and Polaris will help to take this to the next level."
Polaris: Dare to Dream will be illuminated 24 hours a day until 9 January, as part of Liverpool One's 10th anniversary celebrations.