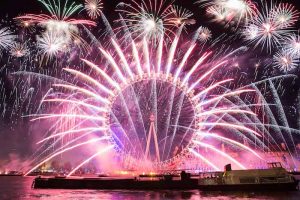 London saw in the New Year with a firework display. Jack Morton Worldwide, the global brand experience agency, created the experience – an event which it has conceived and produced for fourteen consecutive years.
The display, which took place over the River Thames and the Coca-Cola London Eye, is a unique global showcase for the iconic city, reflecting its dynamism, creativity and openness.  The show was seen by millions of people on BBC One and live by over 100,000 people in viewing areas on the banks of the River Thames.
A key aspect of the event is its soundtrack, which reflects the creativity and dynamism of London and provides a unique backbone rhythm for the firework show. This year the soundtrack also celebrated the 2018 centenary of women's suffrage and the Representation of the People Act 1918, which gave women over the age of 30 the right to vote for the first time in the UK.  The show opened the 2018 celebrations of the centenary through a mix which included the work of some of London's female recording artists.
Synchronised and triggered by GPS to Big Ben's Chimes, the 12 minute show lit up the River Thames with 2,000 lighting cues and 12,000 fireworks producing 50,000 projectiles.
The Mayor of London, Sadiq Khan, said: "The spectacular London New Year's Eve fireworks would not be possible without the incredible hard work of Jack Morton Worldwide. This year's display was the best and most exciting yet – kick-starting 2018 in style. Thank you to all of those working tirelessly behind the scenes – showing, yet again, that London leads the world in major events."
Jim Donald, director of production, Jack Morton Worldwide said:  "The New Year's Eve firework display has become synonymous with London and its people.  We're incredibly proud to be part of creating such an iconic and globally recognised event."
As well as working closely with Greater London Authority, Jack Morton Worldwide worked in conjunction with multiple organisations across the capital to deliver the event. These included: the Metropolitan Police, Westminster City Council, The City of London Corporation, Lambeth and Southwark Borough Councils, Transport for London, The Port of London Authority and London Ambulance Service, London Fire Brigade and many more.