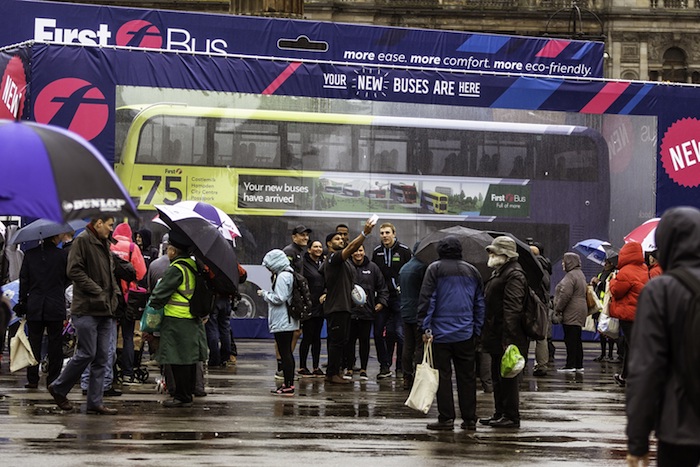 Creative brand and strategy agency, MadeBrave, delivered a first for Glasgow by unveiling the world's largest 'model' bus in the city's famous George Square. The 'Bus-in-a-box' experiential stunt was used as the launch pad for First Bus Scotland to announce the arrival of 75 new buses into the city.
MadeBrave were appointed in July as First Bus Scotland's sole creative agency and produced this eye-catching, interactive display, to help the city's largest bus operator engage with customers and get them on board the new buses, which include free WiFi and USB charging points.
The 16-foot structure was the focal point of a customer awareness day and the first stop for a far reaching integrated creative marketing programme that runs for the next three months with the aim of changing people's perception of bus travel in the city.
Andrew Dobbie, founder of MadeBrave, comments: "First Bus Scotland appointed MadeBrave to drive a change in customer behaviour and help the business shift its focus more on to the customer, through its creative communications. The bus-in-a-box initiative was designed to enable First Bus Scotland to have some fun with its customers and present the humble bus as a more playful 'toy', just like the ones we all had when we were kids."
The second phase of the multichannel campaign sees a creative programme of activity delivered across outdoor, radio, print, digital and social channels, as well as on and in buses across First Bus Scotland's fleet.
Andrew Jarvis, managing director for First Scotland, said: "MadeBrave has created an eye-catching campaign that will allow us to communicate to customers the significant investment that we're making to bus services in Glasgow, and ultimately help us to attract more people on board our services."
This latest activity follows the "kids go free" campaign that ran over the summer with MadeBrave developing a creative campaign to promote the free travel initiative.
MadeBrave works with national and international brands across several sectors, including BBC, Hard Rock Hotels, Naked Grouse, Jacobs Engineering, Vango and Distell. It was also selected in 2016 as an official partner of Google Digital Garage in Glasgow and recently won Marketing Society Agency Employer Brand of the Year.
Now approaching 40 employees across its Glasgow, Edinburgh and London offices, MadeBrave acquired content production agency Campfire in July, creating the BornOriginal group to further enhance its client service offering and help drive the group turnover to a projected £2.3m for 2018.