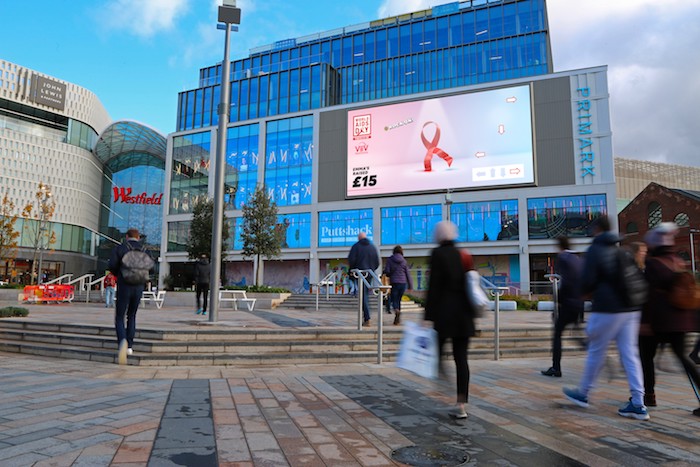 The National AIDS Trust will use World AIDS Day on Saturday, December 1 to imbue its signature red ribbon symbol with a brilliant and original sense of positivity and spirit using the latest digital out-of-home (DOOH) technology.
Created by St Luke's Communications, Rock the Ribbon will harness Ocean's fibre powered infrastructure to transform people into virtual dancing red ribbons on the full motion digital out of home screen which dominates Westfield Square, the event and activation space at Westfield London.
The campaign concept took the top charity prize in Ocean's annual digital creative competition which celebrates bold new ideas in DOOH.
From 10am on December 1, visitors and shoppers will be invited to take part in the activation. Once they start to move accompanied by selected music tracks, a new experiential application developed by DOOH.com will transform them into virtual red ribbons which will dance across the screen, mirroring the participant's' different gestures and moves.
Participants will be encouraged to share their virtual screen moments across their chosen social channels using the #RockTheRibbon campaign hashtag to show their support for people living with HIV. Charity ambassadors will support the experiential event.
Deborah Gold, chief executive of NAT (National AIDS Trust) said: "We were thrilled to have won the top charity prize from Ocean this year, which has made it possible to deliver an exciting activation which would normally be totally out of our reach as a small charity with a small budget. More thrilling still has been to watch the project come together. We can't wait to see people – quite literally – Rocking the Ribbon on Saturday. It's sure to engage new people in the drive to improve awareness on HIV and fight stigma."
Richard Denney, executive creative director at St Luke's commented: "Our campaign aims to bring people together through the universal power of dance – and encourage people to publicly show their support for those living with HIV."
Andrew Newman, CEO and co-founder of Dooh.com said: "As a long term supporter of HIV awareness this winning idea immediately resonated with myself and the whole team at Dooh.com with its energetic vibe and positivity for those living well with HIV.
"This is the first in OOH using real-time motion capture, initiating a live 3D 'Red Ribbon' character render, created with Dooh.com technology. It's a special campaign created to capture the attention and imaginations of all those who'll be throwing some shapes on the 'Rock the Ribbon' dance floor  – raising the profile of this incredible charity."
 Ocean head of marketing and events Helen Haines said: "This idea is so simple and the moment special; people will want to get involved to show their solidarity with people who are living with HIV. The red ribbon is doing something fresh, interesting and cool and it more than delivers on the creative objectives set by our competition."