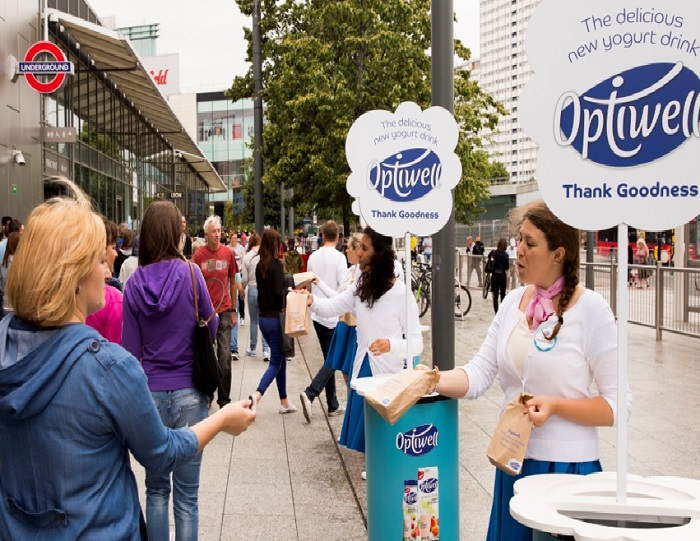 Shoppers across the UK can discover what kind of snacker they are and win one of 10 £100 H&M vouchers when yogurt drink Optiwell's Thank Goodness campaign hits four major shopping centres throughout July.
The real world element of an integrated campaign, which includes online video content and a billboard campaign, will see Optiwell Brand Ambassadors inviting shoppers to enter a quiz to determine their snacker profile and sample the no-added sugar, 64 calories per 200ml yogurt drink from FrieslandCampina. Each 'Goodness Girl' ambassador has been specially chosen to represent one of three possible snacker personas that consumers will be matched to, depending on the answers they give.
"We want to show people how Optiwell understands women, as well as how good the Strawberry & Raspberry and Peach & Apricot varieties taste," said Anna Stennett, Account Director at real world marketing agency Sense, which is running the activation. "Anyone taking part in the quiz will be entered into a prize draw for the chance to go on an H&M shopping trip. A supporting billboard campaign will run simultaneously at each location to drive awareness of the activity and promote the online video content featuring TV presenter Holly Willoughby."
Commenting on the campaign, Marketing Manager Kate Nunn at FrieslandCampina said: "Optiwell believes in making life a little easier with a delicious yogurt drink to tide you over, that's perfect for at home or on the go. Resisting temptation with Optiwell has never tasted so good."
Launched at Westfield Shepherds Bush in London from 8-10 July, the campaign will also visit Bluewater in Kent (15-17 July), Manchester's Arndale Centre (22-24 July) and Birmingham's Bullring (29-31 July).